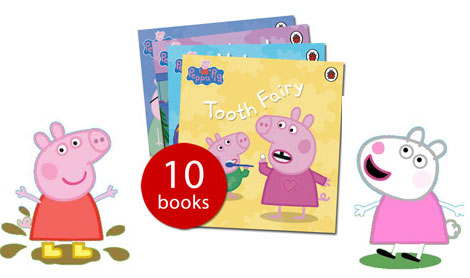 I sometimes wonder how The Book People make any money at all – they're selling this lovely Peppa Pig Book Collection for £9.99 instead of £49.99.
Ten books make up this Peppa Pig Book Collection and they come in a little carry case too, making them easy to pack up and take out with you AND ideal for trying to create a tidy spark in your child from early on.
I'm rather fond of Peppa Pig and all her funny antics, the creators really came up with something for everyone – Peppa for the girls, George for the boys and just the loveliness of it for the grown-ups.
The Peppa Pig Collection books follow Peppa through various daily scenarios that your child is likely to experience, so they can read along and identify with what's happening in the story and equate it to their own life.
If you have a Peppa Pig birthday party coming up then the Peppa Pig Book Collection would also be ideal for splitting up and putting into party bags; something nice to keep once the cake's been eaten and the balloon has popped!
Thanks to busymom at HUKD