Mr Men Book Collection £27 @ The Book People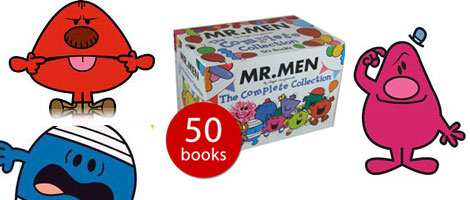 Mr Men stories were an almost nightly ritual when I was a little girl, so I'm a bit biased when it comes to this Mr Men Book Collection.
The Book People are selling it for £27 instead of the £125.00 list price - Mr Happy is VERY happy about that (it says £30 on the website, I'll give you a code to bring that down to £27 and one for free delivery too).
The Mr Men Book Collection comes with its 50 books all nice and neatly stored in a presentation case – Mr Tidy is very happy about this!
Mr Messy, on the other hand, is willing to bet you a tenner that your kids won't put them away back in their case once they've finished reading them – if my kids were are anything to go by, I wouldn't take him up on that bet…you'll lose money.
Roger Hargreaves must have been a bit of a genius because he managed to create a vast array of characters that, although, are called Mr and Miss manage to appeal equally to both boys and girls.
Here are the codes for reducing the price and free delivery, don't forget to apply them to your basket: R3D10 (this 10% code expires midday Monday 7 Feb' by the way!) and PP1102.