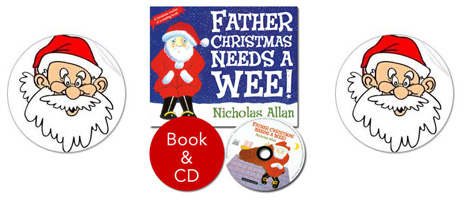 Oh ok, so Father Christmas Needs A Wee is a book from Red House that comes with a CD of the story read by Bernard Cribbins (I LOVE Bernard Cribbins!) - the big beardy guy doesn't actually need a wee at Red House...although you never know!
Anything to do with underpants, wee or Father Christmas is going to be a big hit with little kids.
You really can't go wring with toilet humour or the big guy in the red suit who comes armed with presents once a year.
It's gotta be tough being Father Christmas you know - one night to do all your deliveries, making sure everything is left at the right address (you can tell he never worked for Royal Mail hey!), eating all those mince pies and drinking all that sherry!
Before long Father Christmas needs a wee!
Your child is going to find this story hilarious as Father Christmas becomes increasingly desperate and tries to not to wet his pants!
He rushes through his last deliveries and DASHES home only to discover he's lost his house keys!!!!  WHAT is he going to do!?
Father Christmas Needs A Wee is a fabulous, and funny, counting book that usually retails for £6.99, but is up for grabs from Red House for £3.50.
Delivery is £3.95 if you spend under £15; FREE if you spend over £15 and if you spend over £20 then you'll get a free wrap set too.