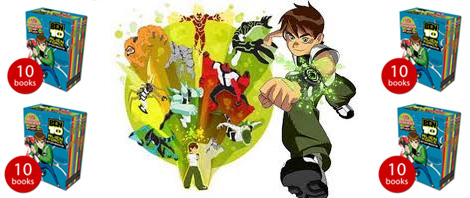 If you have a Ben 10 fan to buy for this Christmas, then this Ben 10 Alien Force Book Collection could be just what you're looking for.
A little while ago I read my youngest a bedtime Ben 10 Alien Force story on an iPad (don't ask), and whilst it was all amazing and had little video clips interspersed, it still wasn't QUITE the same as being able to turn actual paper pages.
I'm just not destined to be a Kindle or iPad fan when it comes to reading. Yes, I know electronic books are great for trees and when you travel, it means you can fit a hundred million books in your hand luggage, but…it's still not the same.
Not only that, I think it's good for kids to immerse themselves in a good book with paper pages that you actually have to turn yourself (perish the thought!) -  something which doesn't have a screen, doesn't make any sounds and doesn't require batteries or a USB lead and a computer to charge it.
This Ben 10 Alien Force book collection contains 10 books – 10 Ben 10 books (I just wanted to say it) – which are based on the episodes of the Alien Force series.
The rrp for this Ben 10 Alien Force book collection is £39.99, Red House are letting them go for £9.99 and if this is all you order then you'll pay a single item delivery charge of £1.95; if you spend over £15 delivery is free.
Happy reading books with paper pages!