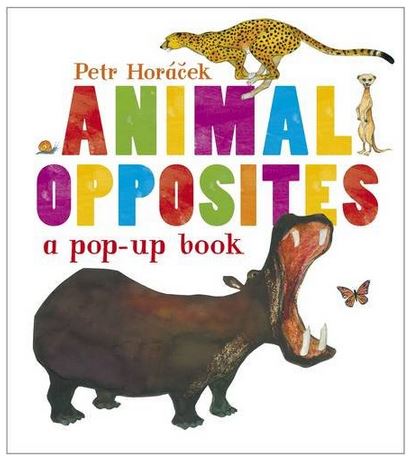 A while ago, I reviewed some lovely baby board books by Petr Horacek*, (£10.99) and recently we were given the book Animal Opposites, which we absolutely love.
If books could be minimalist, this would be that.
The whole books is only 20 pages, and has 41 words in it. The book is an exciting unfolding adventure in each page, however, and my baby, toddler and I were all gripped and excited from the very first page.
The first double page spread starts with a picture of a sausage dog on the left, with the words 'short sausage dog' and the opposite page folds out upwards to two A4 pages with a 'tall giraffe'. The next page is a quiet rabbit, which folds out sideways to a 'loud lion' in 3D with an opening jaw and everything. (There's no sound, just words and pictures, and it's amazing.
One of the pages has a 'still sloth' and it's opposite is a 'bouncy kangaroo' which actually looks like it's bouncing as you open it's fold out page.
The book goes on with opposites like a heavy hippo and a light butterfly, smooth frog and prickly porcupine and so on, and the final page unveils a magnificent peacock.
For a simple book it is really stunning. It captures my children's attention every time we open it, and even though they know by now what's coming, it still gets 'wow's'.
It would make a gorgeous gift, I think, although I'm really struggling to say what age group for because as I said, it excites me as much as it does my children!