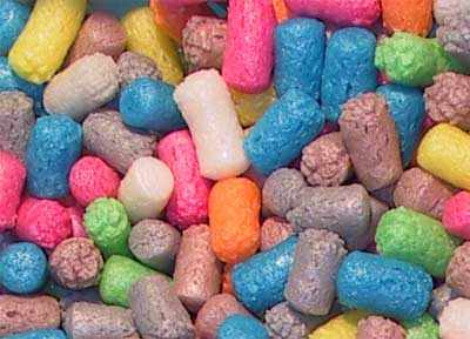 I'd never heard of PlayMais until a box of the stuff arrived for my sons and I to sample for this review.
In case you've never heard of it either, it's basically an eco-friendly fun new modelling material. You can play with it, build with it, create with it, and technically you can even eat it, although why anyone would want to do that us beyond me!

Here's what the PR blurb says: "PlayMais is a revolutionary craft toy using 100% natural ingredients.  Sweetcorn and plant dyes are moulded into colourful building material, which, using just a dab of water, stick to each other. Like all simple ideas, its brilliant! Once you start you can't stop – this is THE ideal crafting toy for young artists!"
PlayMais is fully biodegradable and eco-friendly, as is all of the packaging and box contents too – even the cutting tool in each pack is made from the cornstarch. (Although mine arrived in swathes of bubble wrap which probably slightly undermined the eco-friendly nature of the contents!)
PlayMais has  won awards in its native country Germany, and has won acclaim from UK toy manufacturers too, including the NATLL Good Toy Awards, the ToyTalk Awards, Creative Play and Bizzie Baby Awards.
PlayMais is available in a variety of sizes and themes.  Generic boxes come in sizes M to XL, whilst the themed packs include Animal Farm, Pirates, Circus, African Jungle, Fantasy House, Castle and Sea World.  There are also two new Disney additions to comple

te the collection – Disney Princess and My Friends Tigger and Pooh.
It's ideal for mess-free modelling as no glue is required and just a small amount of water activates the natural starch in the maize to form a glue which will stick to many surfaces including paper, card, glass and other pieces of PlayMais. PlayMais is easily cut with a gentle sawing action using a serated picnic knife - so safety and learning is combined with creativity.
Here's what one PlayPennies parent had to say about her sample of PlayMais:
"I love PlayMais. I bought a very small packet last Autumn and we had a lot of fun back then. So when the opportunity arose for me to review some I knew we'd have a lot of fun and it's not too messy."
"The packaging isn't great - the design is very nice but the cardboard box is thin and not sealed well at the bottom and promptly fell open on me and I dropped a whole heap of them on the floor! Playmais are very similar to the packing materials you get when you get a parcel and they fill in the extra spaces. Except they are colourful and as they are made from Maize, semolina and water if you child decides they look tasty then you don't need to worry!"
You need a sponge which you wet, then you get some Playmais and dab it on the sponge and then stick to paper or one of the templates they come with. I had an ocean theme. It dries really quickly and within minutes you have award winning art, it's great for the ages of about 15 months to 10 years I would imagine! My children are 4 and nearly 2 and they love it."
"After we had created an ocean with grassy and coral reefs, we attempted to make an octopus, which was a good attempt  but looked nothing like the picture! The instructions are really easy to follow, it comes with a little serrated plastic knife which you can use to cut angles into the playmais, although personally I found scissors easier."



"We also got a massive sheet of paper about two feet and created a landscape picture with houses and trees. This was a lot of fun and your imagination is your only limit. This product is great value and really keeps the older children occupied for ages. My daughter happily played with it for an hour and then came back and did more later on. The next morning she was all 'PlayMais, PlayMais!'"
"Having had it in the past I can say that once playmais is stuck to the paper it's stuck for a long time and we still have a picture we made 6 months ago. But if by chance your tot decides to stick them to the kitchen cupboards don't fear they come off and wipe down easily!"
Personally I though the concept of PlayMais was brilliant but the  box we received was too complicated for my children, who are 3 and 5 years old. They absolutely adored playing with it and loved the thought of making a pirate ship complete with dastardly pirate crew, but there's no way they could make the models by themselves and having an adult do it for them defeated the purpose. Eventually they tired of the model making instructions and just started sticking the PlayMais onto pieces of paper, which made for hours of fun. I love that this is an  eco-friendly toy and that it doesn't matter if they decide to sample the taste of PlayMais but for younger children I'd recommend just buying a standard  box of PlayMais pieces instead of one of these model making kits - it'll be a cheaper alternative, and less stressful as you won't have little people pestering you to make them a pirate but can kick back and relax while thet let their imaginations run riot.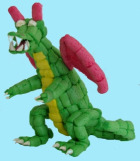 Nataliya's final thoughts on PlayMais are as follows:
Pros:-

Hours of fun for you and your child
Safe and environmentally friendly
No glue required!
You can learn your colours as you create
It's a unique way to create arty pictures for family especially the grandparents!
Easy to clean up
Cons

Packaging a little thin
If it gets to wet gets very sticky and will stick to anything!
Hard to recreate the possible sculptures from the instruction book
Overall PlayMais is an unusual, innovative biodegradable and eco-friendly toy which we would recommend. Check out Amazon for prices and do let us know your verdict if you decide to try some out!