What is Mod Podge? That was my first question when a little pack of five small bottles arrived in my mailbox. This was the starter Mod Podge set. One each of the five types of Mod Podge in 59ml bottles.
The simple answer is that Mod Podge is glue, and a sealer, and a varnish, all in one. When I looked it up online I came across some criticism here in the UK, as essentially you can achieve the same result yourself with some watered down PVA glue, then apply a coat of acrylic varnish over the top.
I specify UK there because while Mod Podge is relatively new here it has been around in the US for 46 years. Since 1967. And it's logo and bottle designs are still 100% sixties! I love that.
Crafters use it for a wide range of applications. It is useful for collage work and scrap booking, but it seem the most popular use for Mod Podge is to tart up old containers, glass jars, plastic boxes, tins, and so forth. Like the kitchen containers shown above - they're from the website and were decorated using Mod Podge.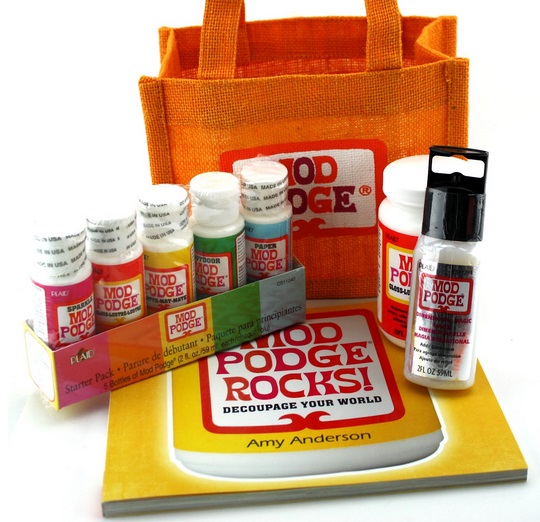 The Mod Podge starter pack (£10.45 inc delivery at Play.com*) can be a useful way to find out if this glue is right for you, or whether you're better off sticking to other more tried and tested methods. I haven't ever tried to cover or decorate anything for outdoor use myself, so was rather pleased to find one product that will do all the varnishing and sealing for me. At least until I'm more confident!
Mod Podge is waterbased, so easy to clean-up, and non-toxic, too - ideal for young crafters.
In the starter pack you get:
Sparkle
Paper Matte
Original Gloss
Original Matte
Outdoor
I was particularly interested in the Sparkle and Outdoor glues. It seemed like a great way to add a bit of interest to an item, like a tin flower pot from Ikea, and make it that little bit special. And Sparkle just sounded like fun.
The glue looks like PVA glue - thick and white. Although it looks white when it goes on, it dries clear. And it dries quickly too. I applied one coat and it was dry enough to touch within five minutes. My test subject was an old Walls ice cream container. I had some scraps of a gorgeous material, and thought I would see if I could make the container into something that would look attractive on my shelf. I love having lots of boxes to put all those little bits and bobs into and keep them tidy.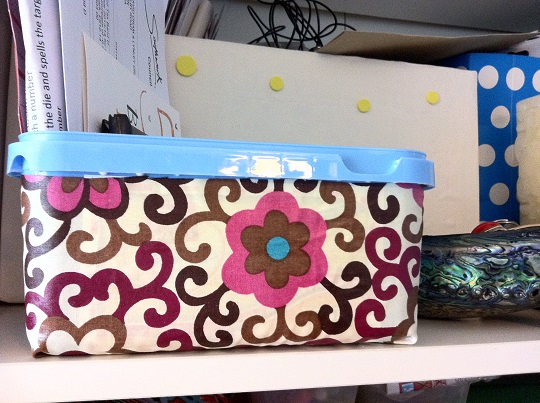 It worked a treat, well for a first go. Judge for yourself from the picture above.
There were a couple of things I learned from my first attempt. First, next time I do this with material, I will iron it first. Second, I quite liked the way that the edges of the material folded underneath the box gave it a bit of character and stopped it looking like a plastic ice cream container. When the Outdoor Mod Podge dries, it does make it quite stiff, and with the sheen it makes the box look a little hand made.
This effect was unintentional though as I didn't realise how the Mod Podge would look when dry. In retrospect I would try to make the folded material more apparent, stand out more.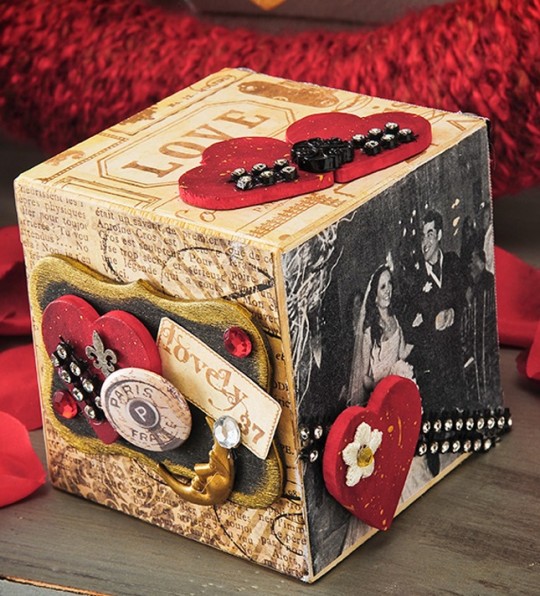 Sparkle is perfect for indoor use though. I haven't finished this project yet so no photos I'm afraid. I am trying it out on a little wooden box I found in a charity shop. I've started to cover the box in a plain, light blue material, and the Sparkle gives it that little bit of a lift.
Pros: simple and effective way for even a beginner to finish a craft project. Great for outdoor use.
Cons: you could do much the same using PVA glue and acrylic varnish
Overall verdict: 9/10