Dino Cookie Cutter Review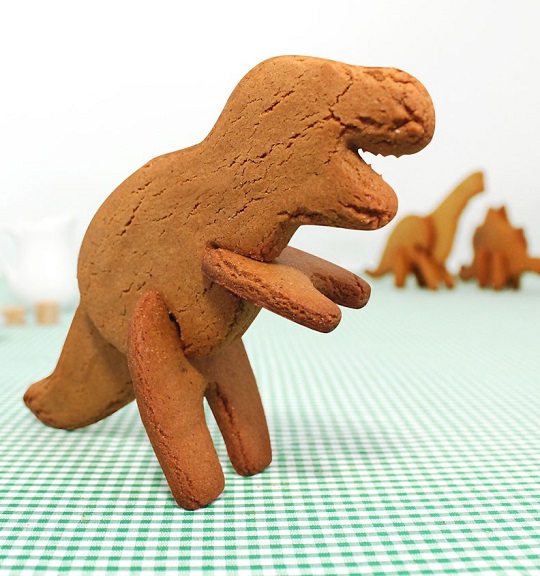 I hate having to admit this in a public forum, but I have a confession to make. It turns out I can't make biscuits. They just go all runny and mishapen. I swear I am following the recipe precisely. And I have tried three different recipes now, none of which worked. Is there some sort of black art involved in making biscuits? Am I committing some sort of basic error? Is it my (gas) oven that's at fault?
All I know is that I had to bring in help to get the 3D T-Rex Cookie Cutters (from the gadget website Red5) reviewed, much to the disappointment of my son. Although he did have a lovely playdate around at his friend's house, with his much more competent mummy, making and icing, and eventually eating, their very own dinosaurs.
What, exactly, is a 3D biscuit? And how do you make one? Well, read on to find out!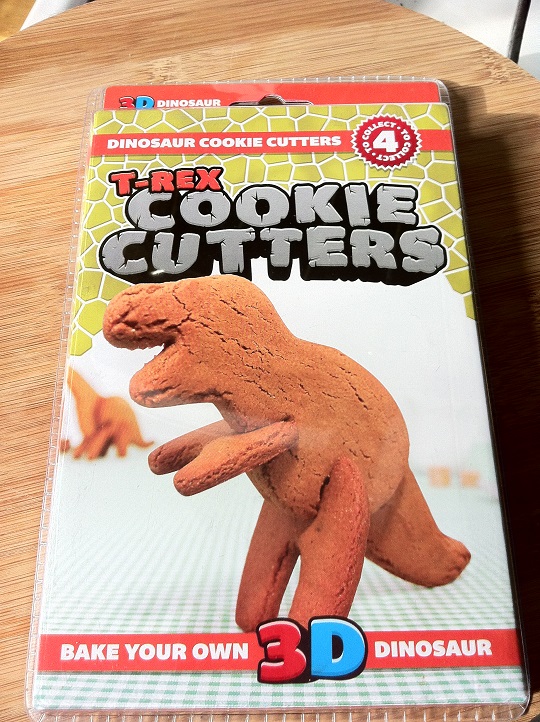 There are four different dino cookie cutters (£6.95 at Red5). You can get a T-Rex, Triceratops, Stegasaurus, or a Diplodocus. Each comes with three or four simple cookie cutters that make up the shape of the dinosaur when you slot them together.
It sounds easy, and what captured my attention with these was the 3D aspect. As well as having their own edible dinosaurs, children could have fun putting them together.
I got a range of tubes of coloured icing too, so that they could have fun icing the biscuits too. In my mind it made a perfect afternoon activity, and activities like this were sorely needed over the Easter school holidays. Thankfully we got a brief respite from the ice, freezing winds, and sleet on Easter Sunday to do our egg hunt.
Unfortunately, my biscuit making skills weren't up to the task. Luckily I took a practice run, and found that my carefully cut out cookies came out as big splodges that just weren't going to slot anywhere. Twice.
My friend Suzanne took over. My son went over to her place for the afternoon, and they had a lot of fun making the dough, cutting out the cookies and baking them in the oven. She pretty much let the boys do everything (they are seven years old), and just supervised.
Hmmm maybe that's where I went wrong? I should have got a seven year old to do the baking.
Her shapes came out as they were meant to. Even then she said there was a bit of trouble getting the pieces together. The boys had trouble with the tail, and managed to break a few cookies. Suzanne recommends making a hard type of biscuit. She had used her families ginger biscuit recipe, which as crisp on the outside but softer on the inside. I have to say they are meltingly delicious.
The boys felt the arms were a bit silly and not at all what T-Rex had. Other than that, she used a bit of icing to help keep the arms in.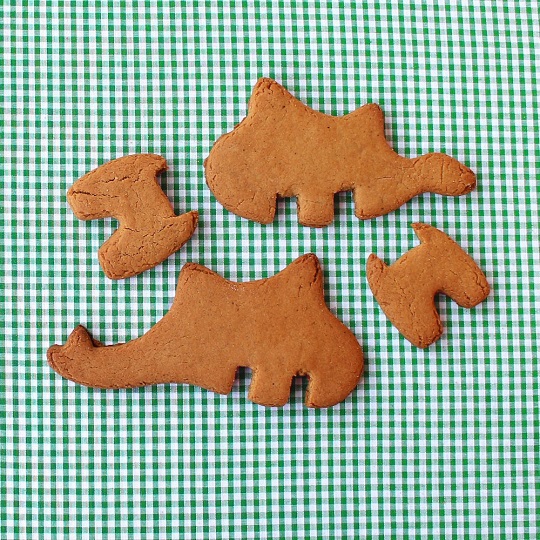 Finally the boys let the biscuits cool and then went to town squirting icing all over them.
I wish I could show you my son's creation, but unfortunately, it was all so busy and so much fun they totally forgot to take photos. By the time he got home he had one rather soggy dinosaur, whose arms had fallen off, due to the fact that all the icing had been sucked off. Turn out my son doesn't like ginger cookies. Is it embarrassing to admit I ate them?
Overall I would say that these are something fun to do with biscuits. If you're having a party, for example, and what something a bit different these would be fabulous. Especially for the children to ice themselves.
I would recommend though make a few practice batches first. You need to get a cookie dough that holds its consistency well, so that the slots on the cutout don't 'fill up' and will fit together after baking.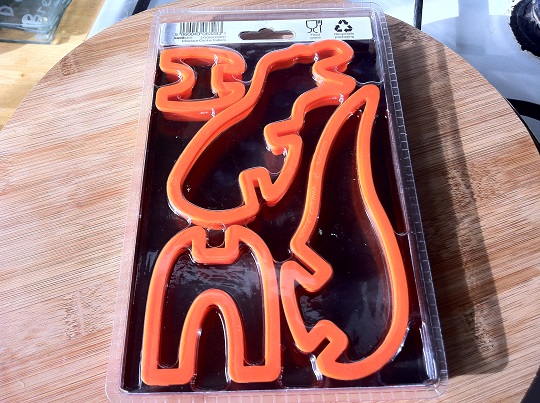 Considering the price of these, for just a few bits of plastic, they really are more for the novelty value. I think though that if you have dinosaur mad children you will get your money's worth. I only wish there was a way on the website you could pick exactly which dinosaur you wanted. I'd like to actually get all four, but am worried I will end up with duplicates.
Pros: fun activity, something a little different
Cons: A little pricey, no way to pick exactly which dinosaur cookie cutter you will get
Overall verdict: 8 / 10