Women's Crocband Multi Winter Boot Review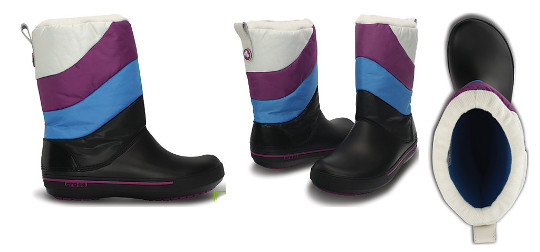 I was really lucky the last two winters with being pregnant - and feeling very hot all winter - and being out of the country for most of last winter, and not really needing boots at all. This year however, I'm not going anywhere, and I'm not expecting anything other than mince pies, so I've had to get a new pair of winter boots.
I was looking for something that would cover all the basis: it needed to be flat to facilitate our woodland walks, and with that, comfortable. It needed to be warm, and if possible water proof, and the calves needed to actually fit over my calves - something that rarely happens with boots and me.
The Women's Crocband Multi Winter Boot from Crocs ticked all the boxes for me!
Gear up for winter with stay-warm-and-dry functionality and stylish personality. The Crocband™ Winter Boot offers comfy lightweight cushioning, water-resistance, and a retro feel with eye-catching multi-stripes.
Their winter boots are quilted nylon upper with a puffy fill for warmth and comfort - like a blanket for your feet. There's a cinch cord around the shaft to help keep the wet and cold out, and a Croslite™ material base for lightweight cushioning. The outsole pods are rubbed for increased traction and durability. My pair of Crocs are the multi coloured ones, with blue and purple so they are nice and colourful and go with a variety of outfits.
There are quite a few different Crocbands styles to choose from.
I have high arches and often find that I but boots I love and then can't wear them very much because my feet ache something fierce. I'm happy to say that arches notwithstanding, I can spend a morning in the woods in these, and have no problems. Since I'm no puddle jumper I don't know how the leg bit cleans up, but the shoe bit wipes clean nicely.
I tend to be quite a plain person, and go for plain colours whenever possible, so these were a bit 'out on a limb' for me, but I do love that they add a bit of colour to the usual black.
While you can tucky our skinny jeans into your boot, they also fit under bootleg style jeans, so they are versatile, and fab.