Verbatim 1TB Desktop Hard Drive For £59.99 @ Sainsburys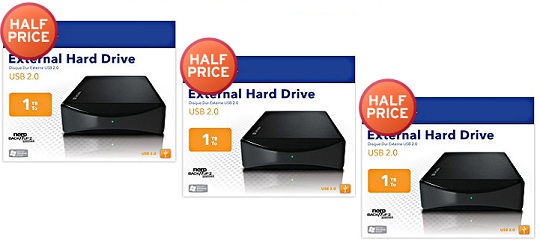 Get a smashing 50% off a 1TB hard drive from Verbatim and Sainsburys. This whopping great big hard drive was £119.99 but has now been reduced to £59.99 at Sainsburys, that's an awesome £60.00 off!
Hurry and go get this fabulous deal from Sainsburys as it is only on offer until the 29th of January.
Verbatim's External Hard Drive provides high capacity storage back up for all file types bringing high performance and reliability to professionals and home users. Its huge capacity lets you store thousands of digital photos, videos, music and other electronic files. It is powered by a SATA hi-speed hard drive which makes the external hard drive race through the most demanding audio/video applications.
Verbatim Hard Drives also come with Green Button energy saving software. Green Button software suspends the hard drive from spinning while not in use, increasing efficiency and saving energy. In addition, there are three Sleep Setting options. Set the suspend mode to come in after ten minutes of use, or by increments of ten minutes up to 120 minutes.
Save pounds and energy, lovely!
Thanks to MiKoL at HUKD!