End Of Sale Baby Shoes From £9 Delivered @ Clarks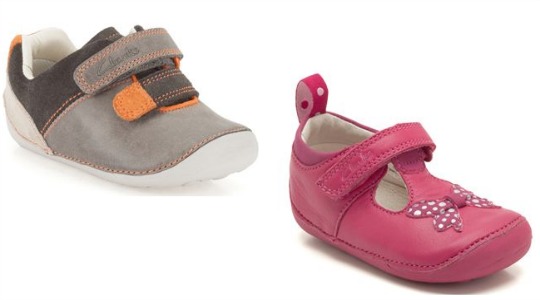 The Clarks shoe sale is coming to a end, so if you do want to grab a bargain you really need to be having a look now. They have reduced sale stock for the last time. Babies footwear starts at just £9, which is incredibly cheap for Clarks.  Delivery is FREE, so you have no excuses! There's thirty eight styles in the sale left and a good mixture of boys' and girls' shoes.
It's exciting buying baby there first pair of shoes but it can be ever so costly, especially when you factor in that they are only in them for a very short period of time. If you know your babies size then brilliant because you will be able to bag yourself a great buy.
For boys these styles are the best buys: Tiny Seb* was £26 now £10, Tiny Soft in Sand* was £26 now £10, Tiny Soft in Brown* was £26 now £10 and Cruiser Play* was £26 now £10.
For the girls: Ida Sparkle* was £24 now £12, Ida Bow* was £26 now £13, Little Snug* was £28 now £18 and Little Harper Gold* was £25 now £15.