Paintball Day Out Only £12.99 @ UKPaintball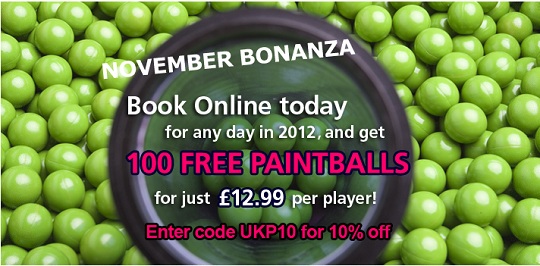 If you're looking for ways to keep everyone entertained during the holiday season, then get out the house for the day with UKPaintball and get smothered in paint. This day of fun and entertainment will cost just £12.99 per person.and if you book now, then you get not only 100 FREE paintballs but a 10% discount too.
UKPaintball offers paintballing arenas that range from castles, mock villages, and pirate ships to missile command centres. They may not be the cheapest package out there, but their purpose built venues, top notch equipment and friendly experienced staff cannot be beaten. Ultimately they believe that they are the best value for money and would classify themselves as offering quality, but still relatively cheap paintball packages. So skip those other 'cheap' paintball deals and book with The Real McCoy, UKPaintball!
Included in the package is full day entry, gun hire, cammo outfit (the best part), lunch, gas refills and the ammo pack. Nice to know that there are no hidden charges on the day!