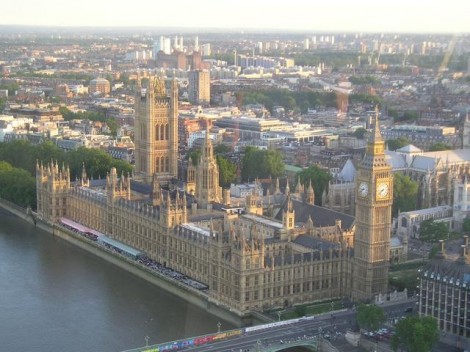 No, I'm not having you on. The Big Smoke actually has quite a few places to go and things to do with children that are utterly and completely free. Some are awesome, some are touristy, some are plain old fashioned fun, and others will surprise you.
To start with, unless you live in London, you're going to have to pay for your transportation. Depending on where you live, you can often get discounted rail ticketsfor adults by booking in advance. Southern Rail offer advance tickets for as little as £3.75 and children cost only £1 each way.
I'm not particularly impressed that the railways charge children but at least it's not exorbitant. Also, when you book your tickets online, don't book the children's tickets. They come up as at least £3 each way so it is far better for you to get those from the ticket office on the day.
Once you've arrived in London you'll hear the magic words, "children travel for free", when you get your Tube tickets. Regular customers will have Oyster cards but if you're just there for the day then go for a full day pass so you have access across the board. You can also use your day pass to nab a "free" bus tour on the number 11 busfrom Fulham to Liverpool street. Don't pay for the tour bus, do your own!

To start with head on over to the Diana Memorial Playgroundin Kensington Gardens. It's situated next to Kensington Palace and is brilliant for kids up to the age of 12. You'll find loads of great rides there, including an awesome wooden pirate ship and tepees!
While you're in Kensington, little fans of Peter Panwill enjoy visiting his statue in Kensington Gardens, the very park that inspired the author to write the story in the first place. Take the children to see Peter blowing his pipes and then enjoy a picnic in the sumptuous gardens.

Another place to visit that I happen to think is pure genius, is 23-24 Leinster Gardens. These beautiful houses are not what they seem. Oh no, these are actually complete and utter fakes that hide a railway line! Watch your children's (and your) mouths fall open when you show them that these are not real houses. The originals were torn down to make way for the steam train vents.
Next up is Kids Zone at the National Army Museum. If you're travelling with a partner who's into such history, they can wander off and soak up some fascinating facts while you enjoy the free entertainment with the kids. You may have to queue up a bit before you can go in but the forest army camp, castle fortress and activity centre more than make up for it.
Then head on over to the Museum of London Docklandsvia the DLR and try to get a seat in the front of the train. These trains don't need any drivers so you and your tots can pretend to be train drivers! Then, when you get to the museum, head on over to the Mudlarks play area that's been created to provide fun and education in one brilliant spot.
Depending on the age of your kids you can also get into most of the museumsand art galleriesfor free. Some of the museums do charge entry but happen to have free days or free periods that you can take advantage of with a little forward planning. Check out their websites for more information.

While the Tower of Londondoes cost you moolla, the Ceremony of the Keysdoes not. Oh yes. You can apply for tickets to this ceremony that takes place every night at 21.53 and allow your kids a late night they will always remember. The tickets are absolutely free but you will have to apply at least two months in advance.
If pomp and ceremony are what you want for free then take your kids to see the Changing of the Guard at Buckingham Palace. This is not just for tourists, it's actually loads of fun and kids simply love being close to the palace. You can even take a picnic for some yummy snacks while you wait and watch. Then, when you're done with watching the guards, take your tots to the Guards Museumwhere they can see all sorts of weapons, uniforms and paintings, and they can even dress up as a guard.
This is only touching the sides of the fabulous things you can do for free in London, there are loads of other places to go that won't cost you a cent and will guarantee you a magical day. If you pack your own snacks and lunch then you're looking at the cost of your travel only. So happy exploring!