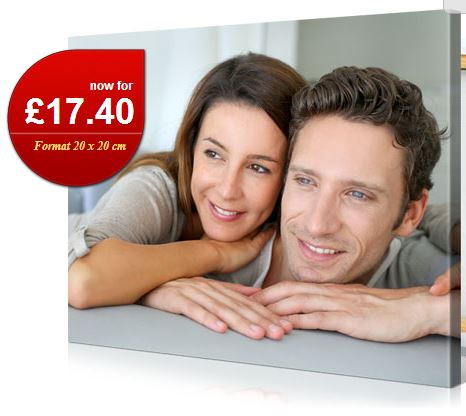 Having your photos made into large enough canvases to fill your walls is definitely the thing to do these days, and there are deals and offers around almost all the time. One of the problems with offers however is using a company you've not used before and having no idea about their picture quality or reliability. Well, we tried out new-to-me Picanova for a canvas photo print for my livingroom wall, so read on to find out what we thought.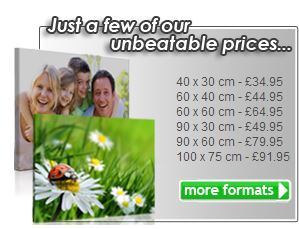 Ordering your image is fantastically simple. Pop over to Picanova UK and on the first page, click 'Upload Photo'. From there you are directed to choose a print on canvas, print on acrylic or on aluminium, and then to upload your image.
In the second step, you will need to choose the size of your canvas, any effects, the frame thickness, and edge options. From there you can view your shopping cart, with your final price, and add any Picanova coupons you may have.
Picanova is a actually not based in the UK, despite being a .co.uk domain, so the photo canvases take about 7-10 days to arrive once you've ordered.
They arrive amazingly well packaged. My four year old said it was like Russian dolls with a box in a box in a box in a box. There were about four layers of good quality hard cardboard protecting the canvas, so it arrived in pristine condition.
The canvas itself was a good, strong canvas that had been strung tightly over a light in colour and weight wood. The ink was vibrant and rich in colour and I was impressed and surprised that there was no really discernable smell from the canvas, which made it ideal to hang straight away, without worrying about toxins around my children.
Picanova canvases start from around £17.40 then as you add extra bits to it, you will be charged per item of preference. For example, adding a coloured frame adds £12.50, or folding the image around the edges of the canvas will add another £10 to the end price. The simplest canvas, at 20x20 with white border is £17.40 though. If you add a larger image file with higher resolution you are given many more options, including splitting your picture into three or four panels. We have had coupon codes of up to 60% off on Picanova in our vouchers section at times, so it's well worth keeping an eye out for those offers when they come around.
It's worth noting that these canvases are sized in centimeter, not in inches.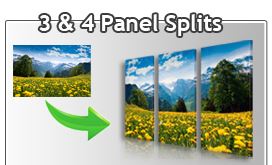 Something I really like on Picanova that I've not seen on other sites is that you are only offered canvases in the sizes that fit the picture you've uploaded, so that you don't end up with pixelated images. More importantly for the time conscious among us, you don't go through the whole process, deliberating on size and style, considering your cost, to get to the preview at the end and see it doesn't work at all. I love how Picanova do it.
The Good
There is a huge variety of prices available from £17.40 for a large variety of sizes and styles - probably something to fit every space requirement.
The upload and order process is really among the simplest I've ever used - one page for all the options, no page crashing out while you click through it. It's really simple, time saving, nothing flash - just practical, simple and user friendly.
While you can upload pictures from a super duper camera, you can also use photos snapped on your phone - it will just determine the size of your canvas.
I like that the frame is really light, but sturdy. It goes up on the wall without needing any kind of reinforcement. Also, should it come off and land on a child's head, it's so light it's unlikely to do them any damage. If it did come off the wall it would be due to a badly put in nail, no fault of the canvas.
The packaging is superb, if a little over the top, but even if the top layer or two did get torn, damaged or rained on, it would be unlikely to affect your masterpiece.

The Bad
I can't really think of anything bad - perhaps they could offer a post processing service? They do print the image as you gave it to them, so if it's over exposed or under exposed or a little blurry, that's what you'll get back too. It's not a bad point though, just not an offered service.
The Verdict
There are ocassional offers on Groupon, or in our vouchers section or other places around the web, and I would definitely grab them and buy gifts, or use it as a cheap way to change the look and feel of a room. I don't tend to ever buy full priced canvasses, but if you do, I see no reason that you wouldn't love your canvas from Picanova.