Tesco Loves Baby Newborn Products Review

No matter how you decide to parent, the early stages of parenting are expensive. Whether you go for cloth or disposable nappies, prams or slings, puree feed or follow baby led weaning, everything costs something, and often finding what's 'right' for you is really trial and error. Which is all fine and well, except these particular trials all cost money!
So, when you're able to try different things and have them not cost the earth most of us grab onto that with both hands.
Tesco sent us a range of newborn stock to test out, but, sad as I am to say it, my 'baby' just turned one a few weeks ago, and there's nothing newborn about her anymore. Fortunately, however, one of our best friends had a baby just over a month ago, so I passed most of Tesco Loves Baby range over to her to try and let me know how she got on. We did keep the wetwipes though, because dirty sticky hands know no age.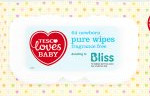 The first thing I noticed about the Tesco Loves Baby Pure Wipes is that buying it supports Bliss, the charity for premature babies, and knowing a few precious little ones who've spent time in SBCU, I think any support Bliss can get is great. 
There are 64 wipes in a pack, and they sell at £1.09, making them 1.7p per wipe. I did find them a little smaller than our regular wipes, but they are nice and thick. They are also not overly wet, which I know will appeal to a lot of people. Our 'regular' brand are very wet, which puts some people off, so this is very much a personal preference thing. Less wet is also good when you carry it around in your bag all day - I've had wet everything from wetwipes before, which isn't great.  I also thought they dried my skin out a little, but then I have a very sensitive skin, and that wont be a problem for everyone.
On the other hand, they are fragrance free, which is really nice, because they don't make everything in your bag smell like wetwipes.
Overall they do live up to their name, in that they are fragrance free, and they are super soft.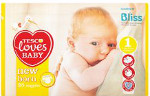 To go with wipes, you often need nappies, so my friend Maggy reviewed the Tesco Loves Baby New Born Nappies. These come in packs of 25 and cost £2.57 per pack - although right now they are on offer for 2 for £4.
The first thing Maggy commented on when she opened the pack of nappies, was how soft they were, and they really do feel soft. She particularly liked the overlapping sticky stuff, because Olive is absolutely miniscule around the middle, and other nappies were quite loose around the top, which meant there was always poo shooting up into the babygrow, which we can all agree doesn't add to the cuteness of the baby.
Maggy changes Olive religiously every two to three hours, so we haven't tested the absorbancy to its limits, but she didn't have any leakages, and she was particularly impressed that she knew when Olive had gone because she could smell wee or poo but not chemicals, which is something you often get in other nappies.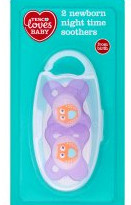 Once she's clean and fed and warm and dry, baby Olive gets a soother and is popped in her co-sleeper next to Maggy's bed. Maggy found the Tesco  loves Baby New Born Night Time Soothers (£2.99 for 2) to be really practically designed. She loved that the silicone teats are reversible, so it doesn't matter which way round you pop it in -something she found greatly beneficial in the middle of the night. Another big positive for her is that the dummy glows in the dark, so rather than switching the light on you can spot it and pop it back in. The only thing is that with a 6pm bed time, the glow doesn't really last all night, and if it's gone in under a blanket or under Olive, then it's not as easy to spot, but that's true of anything. The idea is there and is good, and helps out at least some of the time.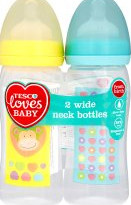 The Tesco Loves Baby 2 Wide Neck Bottles have loads of positives, like the fact that they are way cheaper than branded bottles. They are BPA free and have silicone(£3.50 for 2) , slow flow teats.  It is microwave, steriliser and dish washer safe and the teats are easy replaceable for heavier or lighter flow. The bottles are too big and heavy right now for Olive to hold herself, and Maggy is breastfeeding, so she did try it with Olive, but has decided to keep them for down the line, when Olive can hold them herself. 
We were also sent two packs of teethers for babies. Olive hasn't needed these yet, and wouldn't know what to do with them right now, but one thing I did not about them and really liked was the fact that they are small enough for little mouths. Both my girls teethed early - as early as four months - and at the time we couldn't find any small teething rings, they were all too big for her. This is a huge improvement, and babies can either just chomp at them, or you can freeze them for better relief. The only problem is if they're frozen they are really cold, and there's no non-ice surface to hold on to.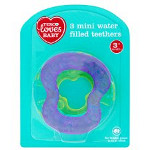 The Mini Water Filled Teethers are £2.29 a pack of three and I think they're fantastic value for money. The gel filled Teddy Teethers cost the same, but they are a little hardier, and I'd say better for older babies. The water ones are softer and would be nicer for sore gums - but that could just be down to baby's preferences. The Teddies have a hole in the middle too, making them easer to hold.
The Good
Overwhelmingly the price of the Baby Loves Tesco range fall in the good category, and there's nothing that doesn't do what it's supposed to.  Tesco products are also easily accessible, there's a Tesco everywhere.
The Bad
I can't really think of anything that isn't specific to us or our own things, like skin conditions.
The Verdict 
Cheap, cheerful, useful and ideal for parents who need to try a variety of products before finding what works best with their little ones.