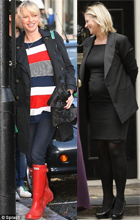 Check out Coxy looking Foxy. Not bad for for a 30-something bird expecting her third babe. Kudos to the BBC Radio 1 DJ and former ladette for managing to combine pregnant style with practicality on a rainy winter day in London (loving those wellies).
Sara Cox's best mate Zoe Ball is also expecting a baby in 2010. With a son named Woody I wonder if they'll opt for Buzz if it's a boy? That'll be lost on anyone who's never seen Toy Story. Sorry.
Anyway, looking good, ladies. There's something refreshing about celeb mums looking vaguely normal when they're pregnant. Which brings me to Hollywood actress and wife of Ben Affleck, Jennifer Garner. Poor old Jen has been banging on about how fat and ugly she felt when she was pregnant with her second baby, a daughter named Seraphina who was born in January of this year.

Fat and ugly? Sorry, Jen, I'm just not seeing it. Of course even celebs have days  where they feel less than uber-glamorous but really, what hope is there for us mere mortals on a fat day when we have to hear how hard celebs have it? Fat and ugly doesn't just ping back like this, either. Nope,  no sympathy here.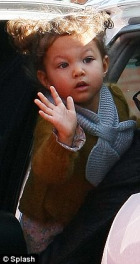 Now this wouldn't be a Play Pennies celebaby post if I didn't include a cute baby pic, so  here's Halle Berry's adorable daughter Nahla, showing that she's already sussed how to work the paparazzi.
Gorgeous, eh? I reckon she gives Suri Cruise a run for her money in the cuteness stakes. Although Suri Cruise probably doesn't do a whole lot of running in those high heels of which she is so fond, but that's a whole new post. Check back later in the week for more on the fact that Suri owns more pairs of  fabulous shoes than I do. Grr.