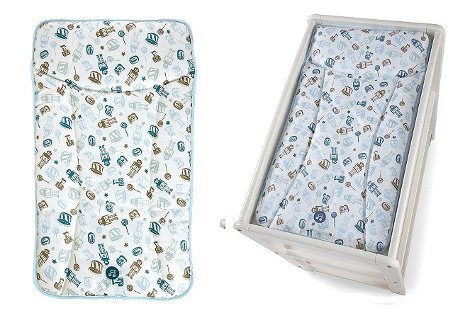 On the list of unnecessary, but "yes, please" baby must-haves, this musical changing mattress from Mamas and Papas for £15 is a high ranker. Down from £22, I can't decide if I love or hate it!
I'm a big believer in the reality that so few of the 'essentials' for a new baby are really essential and that we could quite comfortably do without them. Unfortunately, it's really only after a few months that we realise how much of a con so many of these must-haves really are.
This musical changing mattress is a case-in-point. Now, I don't know what it is about babies, but it seems they all go through phases where they really don't like having their nappies changed. My daughter will squirm, worm and manoeuvre her way off of her changing matt despite my earnest pleas. The only way to get her to stay is to distract her with toys, sunglasses, mobile phones and so on.
I am therefore quite curious as to how useful this musical mattress might be. I think my little girl might get 'used' to it and it might lose it's effectiveness, but on the other hand, it could work.
If you're going to be buying a matt anyway, then at £15 this Mamas and Papas changing matt might be worth a try – I mean, it has all the basic functions of easy to clean PVC and 'child friendly' corners too!

Essential? Well, probably not, but quirky enough that someone like me might want it.

Thanks to Magicbeans at HUKD