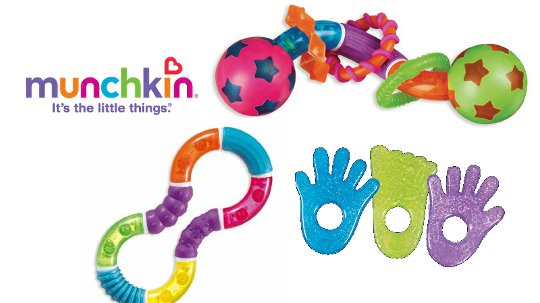 Munchkin recently sent us a range of teething products to review for them. While it's a little premature for my almost 12 week old, and a little old for my 2 year old, we've still had a bit of play with them and look at them and my two year old has given them a gnaw – she has to try out everything that's meant for her baby sister!
T
he first item we received was a Twisty Figure 8 Teethter Toy (£2.95), which is a twistable teether toy with sound, texture and colour. Aimed at babies six months and older – I have no idea why! – they suggest that the toy will develop motor and sensory skills while providing something to grasp and chew on.  It is an easy to twist and hold on to item, with the actual width of the bits you hold on to being small enough for baby hands.
The surface of the teether has multiple different textures, adding to the visual and sensory stimulation. There are smooth surfaces, ridged, bubbly, round and others that I don't know the right descriptive word for.  There are also a variety of colours – yellow, orange, pink, blue and purple – which may not mean much to them at first, but is still visually stimulating.
There are also beads in the clear coloured bits, so that it makes a rattle sound when its shaken. Additionally, the teether is BPA and PVC free.
I really don't understand the age limit on it though. There's nothing on it that can come loose and there's nothing that I can see being a better or worse for a teeny tiny baby than a six month old. The only difference perhaps that an older baby would get more fun out of twisting and shaping the Figure 8.

We also received the Twisty Barbell Teether Toy (£3.59).  The Twisty Barbell is also BPA and PVC free and it has two big balls on the end, hence the barbell name. I can see why this would be more appropriate for a six month plus baby as it would probably be easier to get their mouths around the circumference of the barbell. The thought of that might frighten some parents, but I think you have to see it in person to understand that there's not much chance of even the most adventurous child managing to choke on this toy.
It has six textures and sounds – the sounds being the rattley beads again – and the slightly rubbery feeling star barbells. Further to that it has three rings in the centre that also have different patterns and feel different, and will probably be awesome for gnawing sore gums on – even if you cant quite bite down on the balls.  The bar itself that holds it all together  is twisty and each of the three parts is a different colour and texture.
It is easy to hold on to, and easy to get a grip on as well as being very, very light, so not a problem for a little one .
The last goody we received is the Fun Ice Chewy Teether (£4.41). It is an easy-to-grasp hand shaped teether with a hole in the centre for little fingers to hold on to. It is slightly more expensive than the others, which is strange because it does less, but then it is suitable from birth.
I particularly like this one as when my eldest was a baby, she began showing the signs of teething at 12 weeks already and none of the teethers we had at that stage were big enough to fit in her mouth. When the first two teeth popped through at 4 months, she couldn't even get the teething ring into her mouth! With this the baby would be able to chew on a 'finger' which I think is ideal.  This particular one also goes in the fridge, so it will have a nice cooling effect on the gums.  (And, by the way, it can be used to just help keep them cool in the hot weather too!)
The Good
I like that they're BPA and PVC free – something I basically take for granted in the products I buy these days, but still good.
I think they're really, really well priced. If you consider how long kids teethe for, and how horrible it can be, if these can bring relief that's fantastic.
I also like that they're a toy too – perfect for on the go when you don't want to carry a myriad of stuff with you.
Also, we don't use a pacifier, but we have a pacifier clip and these all fit on the 'other' end, so if she drops it from her sling (a pram would be the same) it doesn't actually fall on the ground
The Bad
I can't think of a single bad thing to say here.
The Verdict
I don't think these do anything you couldn't achieve with a frozen cloth, but they're so much nicer than chewing on a wet rag. They are well made, fun and vibrant in appearance and not at all a bad price. I like them and would definitely recommend them or give them to friends as gifts.