Koo-di Handy Changer £8 @ Asda Direct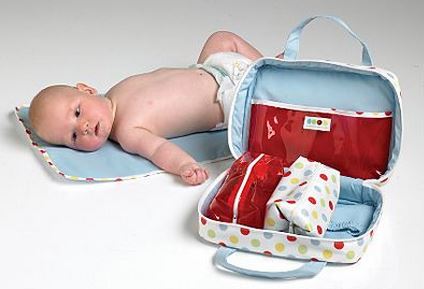 Reduced from £16 to £8, the Koo-di Handy Changer at Asda Direct looks like exceptionally good quality. This compact change bag fits all the essentials a little one will need and at half the price.
There's so much to prepare before heading out the door with a baby sometimes, that it's really  useful to have your staples packed and ready and always prepared for last minute trips - or if you're really organised, just a small bag in the car or pram so that you always have a fall back. That's where this Koo-di Handy Changer comes into play.
This really is just a little bag, but as your baby grows you'll find you start taking less and less out with you: these days I just put a nappy and some wipes in my handbag and off we go.
This Koo-di changer has 2 removable pouches, perfect for your wipes or cotton wool and creams, and an elasticated strap to hold a bottle or a snack box or baby food, and also a wipe clean changing mat. Everything you need for a quick nappy change without carrying the kitchen sink with you!
Thanks to deborahm at HUKD