Grow Bags Up To 25% Off @ Baby Curls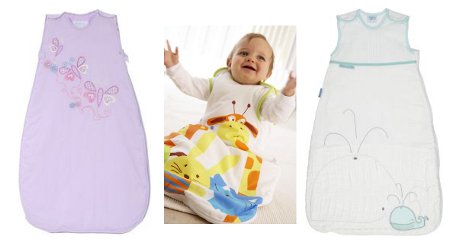 Love them or hate them, grow bags are becoming increasingly popular in the 'must have' baby preparation lists and Baby Curls currently have a 25% discount and free delivery on all their stock.
There are things you say you'll never do with your child, until, that is, you have a child. For me, grow bags were one of those things. But when my daughter would wake from the cold, to be covered, to simply uncover herself again, I knew something had to be done. I dug out a grow bag that I had been given and never used, and I've not looked back since. Even though she still throws off her blankets during the night, I know that she's warm enough as her legs and chest remain covered. For us, grow bags are a winner.
Baby Curls have some simply adorable grow bags on offer too – such as The Dream Bag Flutterbyes Baby Sleeping Bag (pictured) for £14.99, a saving of £3.00, the Grobag Sleeping Bag - Whale of a Time (pictured) for £21.99, down from £27.99 and Grobag Sleeping Bag - Peek a Zoo (pictured) at £20.99, down from £25.99.
Grow bags come in different togs for different temperature options and all include a free nursery thermometer as well as free UK delivery.