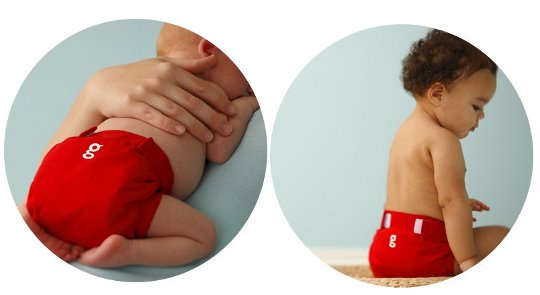 Ocado have a sale on gNappies at the moment, and until June 30th. The red and orange gPants, which normally sell for £14.95 are reduced to £11.21. They are also selling the disposable inserts for £17 for two packs of 32 (medium) or 40 (small).
gNappies are a one of a kind nappy system in the UK which gives parents the option of reusable or disposable nappy inserts, to go with the reusable gPants.  We've reviewed gNappies on PlayPennies, so you can read all about them.
Regular disposable nappies can take around 500 years to decompose in landfill, we're told, which is why gNappies came up with a disposable insert thats chemical and plastic free, and can biodegrade in your compost in 2- 3 MONTHS. Dirty nappies can be disposed of as you would regular nappies, but you can take comfort in the fact that they will be gone before your baby goes to school, rather than many generations later.
We've used gNappies for newborns, travel, and regular use, and love the ease of them.