Did you know that around 8 million disposable nappies are thrown away every single day in the UK?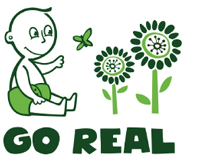 If you have a nappy-wearing baby in the house you might well feel as though you change about 8 million nappies a day but joking aside, that's a staggering amount of nappy waste. The average baby will produce around 5,500  soiled nappies - enough to fill approximately 130 bin bags! And of course most of those used nappies end up in landfill sites - in fact disposable nappies are the largest single contributor to Britain's landfill sites, where they can take between 40 and 500 years to break down.
As we all know, that's got to change. The European Union has set targets to reduce landfill by 65% by 2020 and many of us already do our bit towards that in the shape of reducing, reusing and recyling.
But have you thought about doing away with disposables and trying real nappies instead? The benefits extend beyond the environment to your pocket, too. As well as being around 40% kinder to the environment than disposables, real nappies can save you around £500 - and even more if you use the same nappies on more than one baby.
The financial challenge with washable nappies is the initial outlay - yo

u obviously have to stump up the cash before your baby is born, rather than buying a packet or two of disposables every week. But real nappy advocates reckon you can stock up on everything you need for £80 and if you include the £1 per week it takes to wash them, you'll still save £500 compared to the market leading brand of disposable nappies. That said, if you splash out on real nappies once and have more children later on you'll already have all your nappy needs covered, saving you even more moolah. (Great excuse for another baby: it won't cost us any more in nappies!)
And if you start a real nappy saving fund early in your pregnancy you'll have plenty of time to put away the pennies for your planet-saving nappy pursuit. Alternatively, as baby shower parties grow in popularity in the UK and it becomes the norm to shower an expectant Mum with baby gifts, you could always consider asking friends, family and colleagues to contribute to your real nappy fund.
Baby wipes are of course another environmentally unfriendly expense but you can save around £250 by making your own. Check out www.cheekywipes.com for an innovative approach!
But what about the energy costs associated with manufacturing, washing and tumble drying real nappies? As they say so eloquently over at www.washedanddelivered.co.uk, those costs exist for every garment you buy - but most of us wouldn't switch to wearing disposable paper knickers just to save on the costs of washing cotton ones!
Those energy costs are also effectively offset even further if you ensure your nappies keep being used when your baby no longer needs them. There is a huge market for second-hand real nappies - check out www.preloved.com for more info (also a good place to buy your own nappies if you want to save extra pounds and don't mind second-hand) - and there are lots of charities that will redistribute unwanted real nappies for use in poorer countries. Even if you ended up sending your real nappies and wraps to landfill, you'd still be doing the environment a favour compared to dumping over 5000 disposable nappies.
So where do you start if you're considering using real nappies? The first step is choosing the right nappy for yours and your baby's needs. That might sound silly  - after all a nappy is just a nappy, right? Well, wrong. As the landfill crisis grows, so has demand for real nappies and consequently the range of real nappy products available is pretty overwhelming.
Which is why I'm going to let you into one of the internet's best-kept secrets. Check out The Nappy Lady for an indispensable guide to everything you've ever wanted to know about real nappies. You can even buy them from the site. I don't think there's a question about real nappies that The Nappy Lady hasn't heard: nappies are her passion!
Click here to read some reassuring words from The Nappy Lady herself and then go here to fill out a comprehensive questionnaire about your nappy needs and in return you'll get a personalised real nappy recommendation, completely tailor made to suit your needs and concerns, as well as 5% off your order, should you decide to go ahead and buy direct from The Nappy Lady. See, I promised you this would be real nappies made easy!
Many local councils run cash incentive schemes to encourage parents to use real
nappies, and some even run real nappy laundering schemes, too. These services are ideal if you don't like the thought of washing all those nappies or have limited opportunity to launder them at home. I had a friend who used a laundry service in North London and raved about it. She lived in a small flat with no outside space and no tumble drier so couldn't bear the thought of cluttering up her already small living space with racks full of drying nappies. Instead she popped the nappies into a specially-designed bucket and once a week someone from the council collected the used nappies and delivered a week's supply of clean ones. (I should add that the  used nappies are basically the outer layer. With real nappies the liner, or the part of the nappy that is in contact with baby's bottom, usually gets disposed of first, so it's not at all like having a bucket of used nappies sitting around.)

Call the UK Nappy Line on 01983 401959 for more information about your  local real nappy contacts, including local laundry services. The helpline is available from 9am to 9pm, seven days a week including Bank Holidays and you can also  email them on nappy@wrap.org.uk
And if you have a burning question or comment about real nappies, leave a comment below - we'd love to chat!