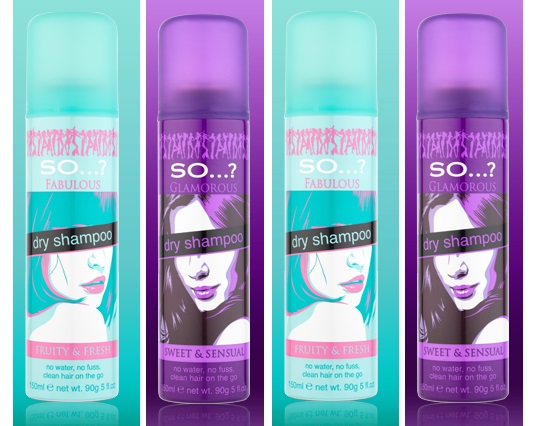 Welcome back to the school run! Nothing quite says the holidays are over like having to drag a grumpy child out of bed, pour them into a school uniform, and pull them down the road in a massive deluge of icy cold rain.
Life during term time is one big mad rush. Or maybe it is just me that's not organised enough? Maybe everyone else manages to get up in time to have a shower and wash their hair, with plenty of time to dry their hair before leaving the house.
During the summer months this isn't an issue but now is not the time to go rushing about with cold, wet hair. So inevitably it is the one thing that I find too time consuming to manage at times.
Hurrah for dry shampoos! These are an emergency measure that have saved the life, and appearance, of many a rushed mum. These shampoos turn your dirty, greasy hair into lovely flowing locks of silken gorgeousness. Well, they make them look less greasy at any rate.
And there's a new kid on the block. So....? has launched a range of dry shampoos and we got a couple to sample and review. Read on to find out if they are any good or not.
The So Dry Shampoos come in a 150ml spray can, and have an RRP of £2.99, however we've found them on the web for £1.49 at Fragrance Direct*.  This is a really good price. Normally we use another dry shampoo, and I think that's the most well known brand, and it was interesting to see how the two would compare.
First off we didn't get any of the 'drandruff' or white powder residue that we've had with other dry shampoos. That's the plus. On the downside, you only need a little squirt of the other brand (and I have lots of long hair), whereas I had to use quite a bit more of So Dry. Also, my hair didn't feel as bouncy as it does with the other brand.
But, I loved the fragrances here. We got Fruity & Fresh, and Sweet & Sensual. I totally misread the can and went around telling people that it was Flirty and Fresh. Well either way it is definitely my favourite, and beats the scents on the other shampoos by far.
The crucial question is, would I buy it as my preferred dry shampoo? At £1.49, yes I would. I liked that it didn't make my hair feel gunky, and I wasn't worried about 'dust' on my clothes, and I liked the scent.
Pros: doesn't leave a residue, smells great!
Cons: had to use quite a lot, doesn't give your hair that 'salon lift'
Overall verdict: 9 / 10 if you can get it for £1.49