Dentinox Teething Toothpaste Review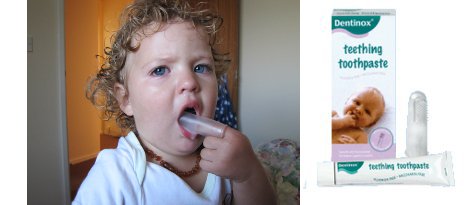 My daughter had her first two teeth at four months and now has a mouth full with just the molars still to go.
As a breastfed baby I wasn't very worried about brushing her teeth but as her solid intake has increased and her milk intake decreased, and she started taking an interest in us brushing our teeth, we decided it was time to introduce the concept.
We bought Kyra a kids toothbrush which she has a play with at toothbrushing time. She swirls it around and chews on it a bit and that's all. Unfortunately that doesn't provide much guarantee of coverage!
So, we decided to try Dentinox Teething Toothpaste, a flouride free, saccharin free toothpaste that comes with a thimble like toothbrush. Designed specifically for babies aged 0-2 the toothpaste contains Xylitol – a plant based sugar substitute which has been shown to actively prevent cavities.
The way it works is by putting the finger-brush on your index finger, adding a pea-sized amount of toothpaste and rubbing the teeth gently. The tube is quite small, so it is a little more expensive than regular tooth paste, but it is so very much easier than trying to get into a baby or toddler's mouth with a toothbrush.
My daughter was unsure about it the first time, but she let me get on with it, and afterwards I allowed her to try herself (as you can see in the picture). That way, I'm sure every tooth is getting some cleaning, and she can have a go herself too.
Afterwards I let her have a sip of water, some of which she spits out, but the rest not- which is fine since it contains no fluoride (although there are a few other chemically ingredients, so check if there are any allergies you're concerned with.)
Dentinox Teething Toothpaste can be found at most leading supermarkets.