Children's Health For Dummies Review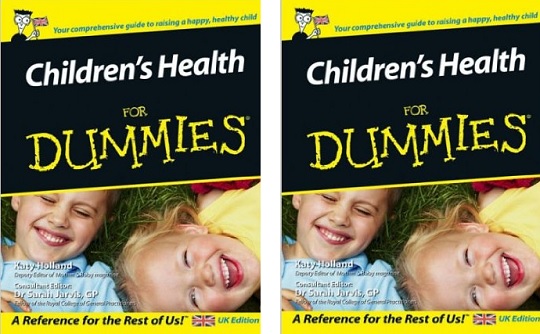 The For Dummies series of books has always been one that I've admired. The concept is utterly brilliant. You buy a book that is laid out in a very specific way, to a very specific formula and you know that by the end of it you will have the answers and knowledge you need to forge ahead. The Children's Health for Dummies book is no exception.
The deputy editor of Mother  & Baby magazine, Katy Holland, and Doctor Sarah Jarvis, a GP and Fellow of the Royal College of General Practitioners have created a book that takes quite a weight off the nervous parent.
I am a nervous parent. I need books and I need the internet. I like knowing that there is a doctor nearby and I like the idea that I can pack this book on a camping trip and I'll have most of the know how I need to help my child if she gets sick while we are away.
The chapters include: the basics, the first year of life, raising healthy children, symptoms, illnesses and treatments, looking after a sick child and the part of tens. Each chapter is broken down into easy to read sections that explain essentials like taking a temperature, spotting something is wrong, the importance of nutrition and common childhood illnesses.
There are few things I really like about the book. It's well written, it isn't patronising, it includes clear tips for various issues so you can get the most out of the information provided and there are warnings that are often very much needed.
The book costs £14 retail but is currently on special on Amazon* for £8.69. As a book that offers value for money in terms of weighty and reliable advice, I give this an 8 out of 10. It is definitely one to add to the gift pile if you know someone expecting their first child. It will really take a load off their shoulders…