Brush-Baby Chewable Toothbrush And Applemint Toothpaste Review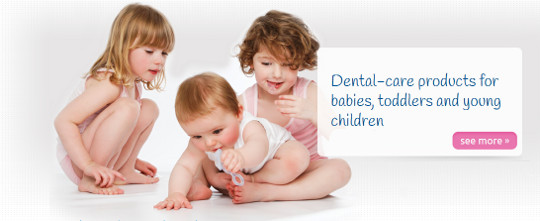 We were sent a set of dentist endorsed Brush-Baby toothpaste and toothbrush for babies to review, and as my daughter just turned 10 months old, the timing couldn't have been more perfect.
Brush-Baby is a toothbrushing product range for babies aged for 0 – 6 years of age. Their products consist of dental wipes for ages 0 – 16 months, a soft chewable toothbrush for ages 10 months to 3 years and a flossing brush for ages 3 years to 6 years. They also have two flavours of baby and toddler toothpaste – Applemint for 0 – 3 years and TuttiFrutti for 3 years to 6 years.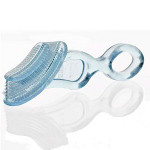 We were sent the chewable toothbrush and the Applemint toothpaste, so those are what I will review in detail, but will briefly mention the wipes too – I didn't use them, but think it's a pretty interesting idea, especially if you have an early teether. My first daughter had her first teeth at four months and having a "soft, disposable, finger sleeve wipe" with which I could just wipe over gums, tongue and cheeks could have been really useful!
Now that my little one is ten months old, I've been having a go with the multi-award winning chewable toothbrush. Let me explain it like this: have you ever been to the cinema and seen those eggs you can buy in the toilets that have a chewable toothbrush in them? It's kind of like that, without the egg or the hard rubber or the built in toothpaste. Actually it's pretty cool. It's a jawline shaped gadget that has space for about 3 or four teeth at a time as well as having a 'handle'. It's actually a really good idea, and my girlie enjoys chewing on it.
The bristles, rather than being upright like on a normal toothbrush are lying down, so the chewing motion is like brushing up and down. When it works, it's pretty genius.
I say when it works, because getting a 10 month old to let you brush her four and a bit teeth is… well.. impossible. She constantly grabs for the brush herself, and wants to do it herself. In fact, it's a pretty fabulous teething toy.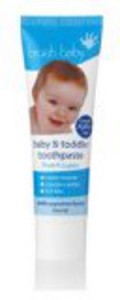 The toothpaste is great too. I like fluoride free toothpaste for my eldest as to this day she won't spit out toothpaste, no matter how I try and coax her to do so. However, there's plenty debate on the good of a fluoride free toothpaste, and I feel that this Brush-Baby toothpaste is a very nice middleground if you do want fluoride, but also want the benefits of Xylitol, since it contains both Xylitol and a reduced amount of fluoride.
The Applemint flavour is lovely. I can't help but think it tastes like an apple martini, but my 3 year old says it tastes like apple juice, so that's not a bad thing. Since it contains no SLS the Applemint toothpaste is non-foaming, which is also quite nice for a little one, and very nice for a baby as she's not likely to inhale any of it. I brush with it from time to time and it definitely has a refreshing flavour in a way that many other fruity and non-fluoride toothpastes don't always have.
It comes in a 50ml tube, which doesn't seem like much but you really use a very small amount of it, so it lasts for ages.
The toothbrush costs £4.99 and is available from Brush-Baby in clear, pink or blue and the toothpaste is £2.35. Both are also available from Amazon* for less, however, and at the time of writing, the toothbrush was on offer for £3.54 with free delivery, whereas shipping from Brush-Baby is extra. If you'd prefer to buy it in store, you can find Brush-Baby in Sainsbury's, Waitrose, John Lewis, Jojo Maman Bebe and Kiddicare.
The Good
Where to start? The toothpaste is tasty and lovely and not a choking hazard for a small baby
It lasts a good long while, and covers all the basis with a low dose of Fluoride and Xylitol
It contains no SLS
The toothbrush is a great teething toy that cleans teeth while playing
It has a good grip
The Chewable toothbrush is dishwasher safe, so if it does get a bit grimy it's easy to clean thoroughly
Pretty competitive prices
The Bad
It can still be really hard to convince a 10 month old that she needs those sore little toothies cleaned, but then you do still have the option of the wipes.
The Verdict
I really like Brush-Baby. We get a lot of new products through our doors and I often use things, and even if I love them, something new comes along and I don't necessarily replace what's finished, but this is something I'll definitely replace – the toothpaste specifically – and I'm seriously considering trying the flossing toothbrush on my 3 year old.