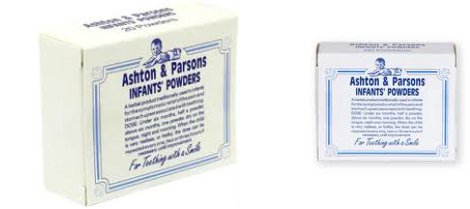 Ashton and Parsons Teething Powder is a natural, herbal teething powder for babies and toddlers. My little girl has been using it since someone told me about this 'baby cocaine' as it's fondly known and I swear by it – whether you believe in natural remedies or not!
Ashton and Parsons powder consists of Matricaria, which is a fancy name for German Chamomile, in a lactose base. Whereas most parents use a different, more commonly known Roman Chamomile teething tablet, Ashton and Parson's is stronger and more effective. Matricaria acts as a mild anaesthetic in children.
Furthermore, Matricaria helps soothe upset tummies caused by teething, it settles restlessness incidental to teething and generally makes for a happier teething baby.
The funny thing about Ashton and Parsons is that although it can initially be difficult to administer, after a few tastes, babies tend to open their mouths as soon as they see the paper case coming.
The great thing about this teething powder is that unlike over the counter medications, it can be administered at any age, and as often as necessary, and it has no negative side effects.
Before reaching for the pink stuff next time, give Ashton and Parsons a try, I highly recommend it.