ASDA's Little Angels Dry And Sensitive Shampoo And Bath And Body Wash Review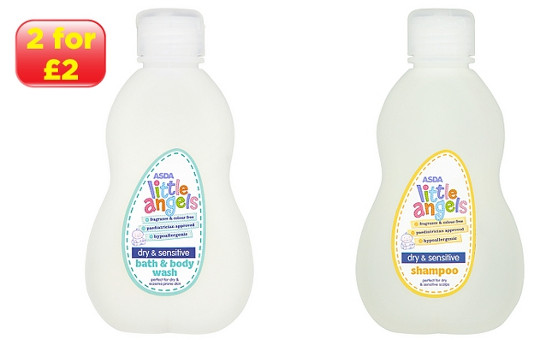 ASDA's Little Angels Dry & Sensitive Shampoo and Bath & Body Wash landed on my desk a few weeks ago for us to try out. I always use new products on myself before testing them on my children, because between us we seem to cover the spectrum of sensitive skins. I have been using this product inbetween our regular ones, partly to stretch the life of our more expensive chemical free bath products, and partly because as far as chemical laden products go, this seems to be one of the more gentle-on-baby-skin formulations.
Little Angels Dry and Sensitive Shampoo (£1.35, although you'll often find it at 2 for £2) has been 'specially developed to care for babies with sensitive and dry scalps - something I always find a bit of a conundrum with products with Sodium Laureth Sulphate in it, as SLS dries skin out. The 'extra mild' formula has app arently been enriched with moisturisers  and has a no tears formula. It is colour free and hypoallergenic, dermatologically tested and paraben free. '
The shampoo is also fragrance free, but that doesn't make it scent free. I know it's not particularly supposed to, but it smells a bit like melons to me. Sweet, but not overwhelming, and you can't really smell anything on the hair.
It does leave my daughter's hair feeling really soft and whispy, and easy to brush. For my hair, I have to use conditioner afterwards, otherwise my scalp is incredibly dry - but that's pretty much the case with almost all shampoos.
If chemical products don't bother your skin, or your little one's, or they can handle most products, this is incredibly good value for money. I've been trying to guestimate how many washes you'll get out of a bottle, but it's tough as obviously my hair uses more than my children's. I'd say we've used it about 8 times between us though, and we've not yet used a whole quarter of the bottle. It lathers plenty, and a little goes a long way.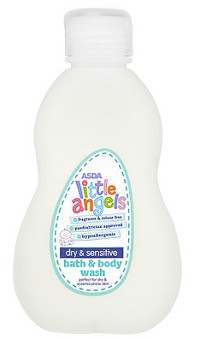 Little Angels Dry and Sensitive Bath & Body Wash (£1.35, also £2 for 2 often) is something I've been using quite a lot, because it makes tons of bubbles. It hasn't lasted as long as the shampoo, but mainly because I've been using it more than the girls have. I love a good bubble bath, and the bubbles from this bath and body wash are great! They hang around for ages. With my eldest they also make a fab bubble beard and quite frankly, the way she baths they end up all over the bathroom. It's great fun though.
As with the shampoo it's hypoallergenic, fragrance free and colour free. It also has that faint melon smell, but I guess that's just what 'fragrance free' smells like.
I  do find that my skin feels really dry after the bath, but again, no more so than with most other products. I always have to moisturise after a bath anyway, but the SLS definitely strips all the dirt and moisture off of skin. If you follow a bath with a nice massage with some organic sunflower oil, your child's skin will lap it up.
It's the same price as the shampoo, and again, if your skin isn't bothered by it - which most people's won't be - it's fantastic value for money. I don't think  you even buy one per month, obviously dependent on your family size and usage.
The bottles both have flip top lids, and turned upside down the liquid pretty much runs out, but you can squeeze it too. If your toddler gets hold of it, expect half a bottle in the bath at one time, but at least when you're holding said toddler or baby with one hand, its easy to apply to the shampoo with one hand.
The Good
As I've said above, the Little Angels Dry and Sensitive Shampoo and the Bath & Body Wash are exceptionally good value for money. I reckon they'd cost less than a £1 a month, if we were to use them full time.
The bubbles are fantastic
It's sensitive on little skins
It does the washing and cleaning job pretty well, and leaves hair soft
The Bad
I found both left my skin a bit dry
It's full of chemicals, even if they are hypo-allergenic
For a mainstream, really cheap product, the Little Angels Dry and Sensitive Shampoo and the Bath & Body Wash does what it's supposed to, and it does it well. I won't be changing from our regular brand, but I will be finishing this off rather than binning it, which is really very high praise.