Asda Little Angels Comfort Dry Nappies Review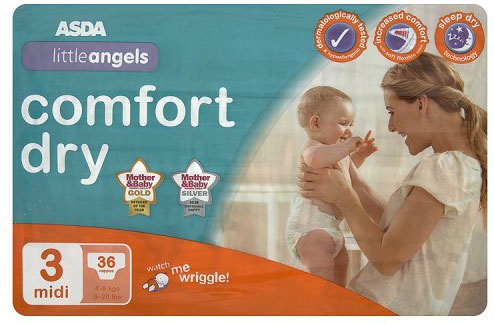 I really struggle to write reviews on nappies because they are so subjective. It's like writing a review on a pair of trousers. Just because they fit me doesn't mean they're going to fit you. I love trousers from M&S, but my sister thinks they hang funny on her, and they fit well around her hips and gape around her middle. We have different body types, so different brands work differently for us.
It's the same with cloth nappies and with disposable nappies.
When my oldest was in disposable nappies as a baby a friend recommended a specific brand, and they happened to be on sale, so we bought bulk - and I mean BULK. We had hundreds of nappies. And I had to change my daughter's outfit with every single nappy change, because they leaked everywhere.  We had to shop around a bit till we found something that really worked for us, and we found that in reusable nappies.
So, while I can tell you about our experience with Asda's Little Angels nappies, my advice would be to buy one pack and try them for yourself before stocking up in bulk, just because we're overall happy with them.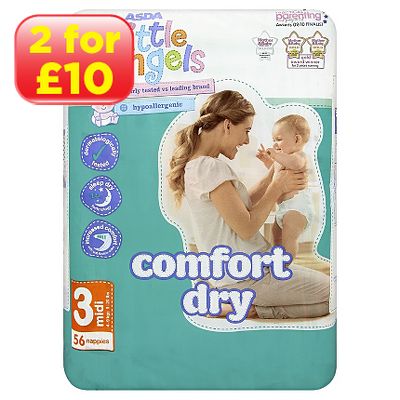 Asda's Little Angel nappies cost £5.97 for a pack of 56, making them a fraction over 10p each, which is already a very, very good price for disposable nappies. They're also currently on a 2 for £10 offer, making them almost 9p each, which is a fantastic price.
It's worth noting that as far as nappies go, these are award winners. They were finalists in the 09/10 Practical Parenting and Pregnancy awards, and Silver winners in the Mother and Baby Awards one year - the writing on the packages is way too small to tell you which year! - for best disposable nappies.
According to the Cambridge Market Research 2012 report, they were also 'chosen by mums'.
The nappies are hypoallergenic, dermatologically tested, and are 'regularly tested' against a leading brand.
The actual nappies are pretty cute. They have colourful spots and some kind of weird rabbit thing in a carrot garden. They are pretty thin and I was worried about their absorbency, being so thin and all.
My daughter sleeps pretty much through the night, and if she wakes it's not long enough to be changed, nor would I want to risk waking her 'properly' by trying to change her in the night, so I wouldn't use these for night times myself, because I think they have about a four or so hour lifespan, maybe less if you have a wet baby, but they absorb well and we didn't have any leaks with them.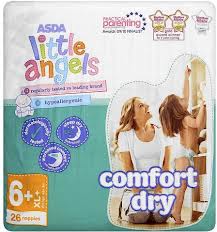 The absorbent strip goes all the way from one side to the other, with a strip of 'waistline' that doesn't have the absorbent strip on it. That's standard, I think, although the image on the back does show it stretching all the way to the top.
The legs are elasticated in three strips, also all the way along the side, running parallel to the the absorbent strip. I think it makes for a nice, close fit on the nappy.
There's no elastic along the top, but there's a good 2-3cm of paper that should protect against anything, ahem, escaping up the back.
The tabs are pretty adhesive - I opened and closed them 15 times before giving up. It was still adhesive after that, and you're not likely to do that in a regular nappy change.
I was trying to see what experience other mums have of these nappies and found some that complained of leaks, and some that complained of mild rashes through to chemical burns.  This is why I say it's hard to review nappies because my oldest had dreadful chemical burns from a leading brand nappy, but not from these. Other babies have had problems with these and not with others. It's all very subjective.
It's also going to depend on how regularly you change your little one. I don't particularly fancy sitting around in urine for hours on end, and don't think my baby should either, so a nappy that needs to be changed every 2 - 4 hours is pretty ideal.
Of course, that's not ideal for the environment, but no disposable nappies are.
The Good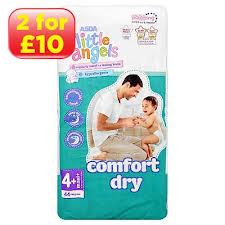 These nappies are a great price. Much cheaper than leading brands and they worked just as well - and in some cases better.
They are well liked by the majority of mums, it seems, so you stand a good chance of liking them too.
We had no leaks. They're nicely shaped.
They do say they have 'sleep dry technology' but I didn't test them over night.
The Bad 
Disposable nappies end up in landfill. They are not currently recyclable. This is true off all disposable nappies.
The Verdict
These nappies are cheaper than leading brands. They work just as well for us. If you've tried them and they work, you've saved money. If you try them and they don't work, you've lost very little money, so there's no harm in trying them. Will I be switching from reusable nappies to use these instead? No, but if I needed to, I can't see a reason why I wouldn't go for the Asda Little Angels Comfort Dry Nappies.