10% Voucher Code For Children's Items @ Greenmums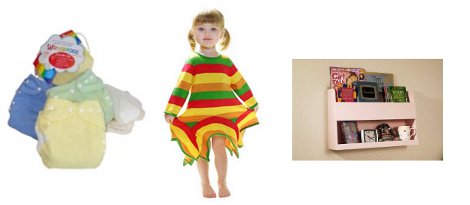 I've said before that I adore reusable nappies. The set up cost often puts people off, so the exclusive PlayPennies 10% discount voucher from Greenmums will definitely help
Greenmums has an excellent supply of birth to potty, pocket nappies, Nappuchinos, swim nappies, and pocket nappies as well as all the required accessories, including laundry supplies.
Beyond nappies, however, Greenmums also stock clothing for girls and boys, new baby gifts, and beautiful toys for ages 0 – 18+ months.
I'm also a particular fan of the Practical Products page, with things such as the bike seat, the Hippychick Hipseat (which we reviewed recently), and the Bunk Bed Buddy.
So, if you're getting ready for a new arrival, looking for something for a recent one, or simply looking for gifts, have a look at Greenmums – they're sure to have something you'll like, and 10% off can certainly not hurt either.