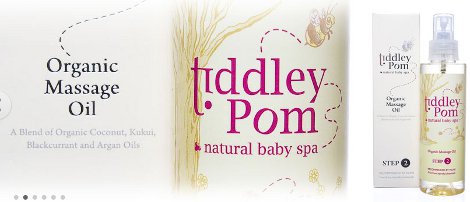 Baby massage is one of those new things that have taken the parenting world by storm over the last few years. Along with the practice of baby massage, a wide range of lotions and potions have come out from various companies, and of course, we've  had great fun trying them as they've crossed our paths.
The latest to do so, is a brand called Tiddley Pom – the creators of the new baby spa treatment range, consisting of massage oil, a soothing lotion, a baby wash, a nappy balm, three music CD's and an instructional baby massage DVD.
We sent PlayPennies mum Denise and baby Ellis a Tiddley Pom baby massage oil (£7.99) and the baby massage DVD (£15) to see what they think of it.
Tiddley Pom say they are unique in using natural and organic ingredients to harness the babies senses with their holistic approach to stimulating the baby's senses, music to stimulate the babies development, touch to promote bonding and smell for an aromatherapy approach.
The massage oil is fragrance-free, containing kukui – a Hawaiian fruit - coconut, blackcurrant and Argan oils – from a Moroccan tree.  This blend of natural vegetable carrier oils imparts a host of naturally derived vitamins including gamma linoleic acid, omega 6 and other fatty acids essential for healthy skin.
So here's what Denise had to say "I loved that the oil came in a convenient spray bottle. Just what is needed when trying to massage a wiggling, rolling baby and slippery hands."
Baby massage isn't just for mums though – in Denise and Ellis' case, it's more daddy that gets his hands, erm… oily.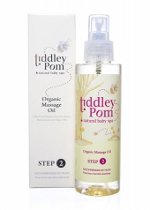 "As I am breastfeeding Ellis my husband wanted something that he could take responsibility for, a certain thing that him and Ellis shared like we shared the time together during feeds." That's a great idea and something many dads find useful when bonding with their newborns. "He was keen to experience baby massage and make time each day for just him and the baby, away from our older son for some quiet time together and knew that baby massage was supposed to be a nice calming time and great opportunity for bonding."
While unsure if she'd buy the massage oil for herself, Denise did think it would make a great gift. "I am undecided if I would buy this oil. It seems expensive, particularly as first press olive oil would work just as well. That said though you are not likely to give a friend who's just had a baby a bottle of olive oil so as a gift it is great."
There are many baby massage courses on offer, but most of them tend to be daytime courses, when the majority of daddies are at work. This was a flaw in their plan, so Denise was really happy to receive the DVD as an alternative.
"The DVD initially sounded a little long (52 minutes) to me. However I found that it is broken down into lots of smaller more manageable sections. I found the DVD to be very informative, the instructions and moves were clearly demonstrated and the sections were very useful."
Denise says that the DVD explains what the benefits of massage are, how to prepare a nice massage environment, and what signs to look for from your baby to signal they are happy to be massaged.  She also particularly likes that the DVD shows how massage can be used at different times of the day and for different purposes.  "The DVD also covers various types of massage, a playtime massage for daytimes to play, relax and gain confidence with your baby. There is a nice relaxation massage for bedtimes. And my favourite section was massages for common ailments. A collection of massage moves to help ease the discomfort of coughs, colds, teething, tummy pain and colic."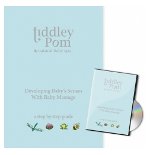 Denise really liked the DVD, and felt that in many cases, it was much more convenient to follow than a course, which is at a fixed time and doesn't account for baby's tired, cranky or hungry times.
"I found the DVD to be very informative and reasonably priced too."
Despite the price of the massage oil, Denise think this would make a lovely gift for new parents.
"These are both great products and would make a very lovely gift for new mums and especially for dads. My husband has loved having that special time with Ellis to look forward to after a day at work (and I'm not complaining about 30 minutes peace and quiet to myself either!)"