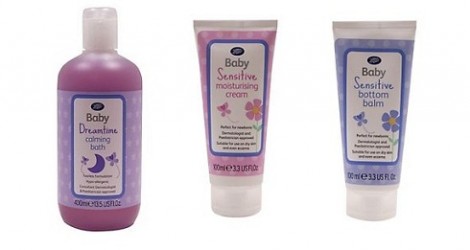 I don't know about you, but I probably end up in Boots about once a week. There's always something you need to pick up, and in the larger Boots a browse through the shelves is always educational. That's how I found the Lindam microwave steriliser plastic bags, a total space saver.
There's a stack of stuff all aimed at parents of babies. Which brings up some crucial questions. What's it like to use? How do I know if I'll need it - apart from buying a bottle? I still have bottles of stuff given to me when son was a baby that I've never used. And he's five years old now. I hated the idea of adding to that pile myself, and paying good money for the privilege!
So I got three of the Boots range products and gave them to Marie, whose daughter is 10 months old. This is how she got on.
Boots Dreamtime Calming Bath
Marie recieved a 400ml bottle of Boots Dreamtime Calming Bath (£2.03) to try out. This is, apparently, pH balanced to "gently cleanse delicate skin without drying, leaving baby's skin soft and clean". On the website it also says it has a lavender and chamomile scent to provide a soothing and calming aroma.
Interestingly though, it doesn't say that on the bottle. So the scent was a surprise for Marie. "There's nothing about a specific fragrance. I opened the top and gave it a sniff, and it had a slight smell of lavender, though nothing too over-powering." She also thought the fragrance of the bubble bath filled the room with a pleasing odour, not too strong.
Marie then put some in the bath while the water was running and was pleased with the result - a nice foamy bath. However, she thought she may have put a little too much in, because as her daughter started kicking, more and more bubbles seemed to spawn.
Still that did have a positive result. "The bubbles lasted the whole duration of the bath though, unlike some other products which dissipate fairly early on."
Marie did read the bottle carefully though, and it seems to meet with her high standards. "I am always quite concerned about using new products on baby as she has very sensitive skin, with bouts of eczema. I always make sure that the product is hypo-allergenic, which the bubble bath is."
Boots Baby Sensitive Moisturising Cream
Next Marie tried out the 100ml tube of Boots Baby Sensitive Moisturising Cream (£2.03). This promises a non-greasy formulation that suitable for the daily moisturising of sensitive and dry skin conditions, including eczema.
First, the 'opening the bottle experience'. Marie found that "the Boots Baby Sensitive Moisturising Cream doesn't smell of anything, even when I almost accidentally squirted it up my own nose. I think this is a good thing, that it is quite a natural moisturiser " While she didn't need to test it quite so closely or rigorously, it is always good to know that it is truly scent free!
She thought that the consistency of the cream was pretty much what you'd expect from a moisturiser. "I tried some on my own arm before going near baby. It dried in well, not leaving my skin greasy or flaky."
Marie used the moisturising cream on a patch of dry skin on her baby's leg, over the course of a week, with slightly disappointing results. "I restricted it to that area just in case there was a reaction, I'd hate to have used it all over her body and something irritated her. It moisturised her skin well, but I didn't see any particular improvement in the dry area."
Boots Baby Sensitive Bottom Balm
The final product I got for Marie to review was a 100ml tube of Boots Baby Sensitive Bottom Balm (£2.03). This cream is meant to soothe a wide variety of dry and irritable skin conditions, as well as providing a barrier on the bottom against the irritants that cause nappy rash.
Marie found the Boots Baby Sensitive Bottom Balm to be quite a thick cream, definitely thicker than the Boots moisturiser. "Again, it didn't really have much of a smell to it when I sniffed it in the tube, though it kind of has a slight hint of that "baby" smell."
When she rubbed it on the back of her hand, a more distinct smell emerged, but it was a fragrance could not put her finger on.
In use she thought that one left her skin feeling a bit greasier, but that it was to be expected as it is more like a barrier cream for baby's bum.
"When I first used it on baby's bum, I squirted far too much out of the tube. With this cream, a little goes quite a long way so that's something to take into consideration when applying."
Overall
It says on the packaging that they are consultant dermatologist and paediatrician approved. "I am always a bit wary of this though - who approved it? Was it one consultant dermatologist somewhere... or a team of respected ones? I usually don't pay much attention to that kind of statement on a product, as I have no idea of its origins."
Good for Marie for not simply trusting the marketing. I'm sure that Boots do all kinds of checks, but at the end of the day, the proof is in the pudding as they say. Either it works, or it doesn't.
And Finally ...
Although it didn't clear up her baby's dry skin patch as she'd have liked, all three products got a definite thumbs up in the end from Marie. Her final word? "I'd probably buy these products again, especially the bubble bath, as the smell was really gorgeous."