Slendertone Bottom Challenge Week 1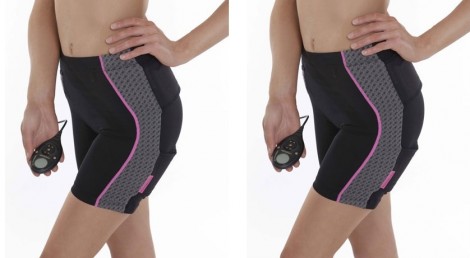 I've been happily, and a tad painfully, working my way through the first week of the Slendertone Bottom Challenge and have had some interesting results. Last week my measurements sat at 39cms across the widest part of my bum and this week they sat at pretty much exactly the same measurement.
I've lost about a millimetre, if that, since starting out and I've been utterly faithful to the process. In fact, I have done the additional exercises five times this week as opposed to four and I've also been doing my step machine on some alternate days.
Taking a look at my diet, I haven't eaten any more or less of the bad food I'm prone to so it shouldn't be that having a negative effect on the results. However, I have to admit that the machine is definitely doing its job. My muscles were so sore on Thursday that I was walking a bit like I'd been beaten up.
So far the regimen has done nothing for size but has it done something for tone and looks? I'd have to say yes. My bum is looking and feeling a lot firmer and some of the clothes I was starting to find a bit tight have loosened a fraction or two. This can only point to the fact that something is working, even if it isn't measurable yet.

As this is a five week challenge I am not particularly disheartened or disappointed. This kind of thing takes time to make a difference and I do need to monitor the rubbish I am eating too. So, next week is all about making sure everything is a little more focused.
The programme you follow over the course of the weeks increases the level of, er, charge each time you use the Slendertone machine. To start with I was on level 20 for a few days, that has gone to 25, 30 and, today, it sat at 40. Wow. It was almost painful on one area but in a nice way. I have to admit that I found it rather addictive. I was close to disappointed when the programme finished. The regular zoom of the voltage is very relaxing actually and a part of me feels quite smug that I am lolling on the sofa, taking in a spot of TV, while my muscles get a stonking workout.
There are some down sides, though. First off I realised that I can't really walk around and do other things while I am doing the programme. The pads have a tendency to come off and, if they do this while the voltage is humming, they can give anything in the way a nasty shock. Like my hand. It really wasn't pleasant. They can also shift position in spite of the stickiness of the pads and that can also hurt.
So, the best thing to do is to really relax in front of the TV or with a good book before you press Start. I am sure that some of this is user error and the fact that the trousers seem to come in a "one size fits all" style so if you are a tad bigger than most the pads don't cover the entire Velcro area as effectively.
I am impressed with the length of the battery life, though. It has been a week since I charged it and it hasn't needed a boost since then. I also like the fact that the pads have stayed really sticky, are easy to maintain, and the very portable nature of the kit. You can fold up the shorts into a small little square and store it, along with the remote, in a handy travel case that comes with the set.

The one thing that has been preying on my mind is the sustainability of the programme. It's all very well to focus on this area for the duration of the challenge, but what happens once you've achieved your goal? You can't focus exclusively on your legs and bum every day and need to incorporate other exercise elements into your daily workout so, unless you have two hours a day to exercise (which most mums don't) there needs to be a workout plan that maintains your bum's new good looks without having to focus on those exercises every day.
With that in mind, I have emailed the folks at Slendertone and asked their experts what they think and what they recommend. I'll update you on their thoughts next week.