Today's article comes to you from the pen of Nataliya, writer of suburbanmummyuk.com, a fellow UK parent blogger! Nataliya shares with us her hints and tips about saving money, based on her experiences of moving into a new home and feeding her hungry family!

As winter leaves us and spring is fast approaching, it's made me reflect on what a bitter and long winter we have all had.
Electricity & Heat
When we moved ten months ago to Suburbia, from a flat in the city into a house, we pondered the costs of heating our new place. We had the heating set to 30°c all the time as it really felt cold in here! According to our little thermometers we have placed around our house, the temperature was only getting up to 24°c on a good day. We then got our first electricity bill and not surprisingly, it was very high. We had to take action to make sure that next bill wasn't so steep.
What we did to cut costs:
Used a draught excluder on the door that led to the garage
Checked all radiators were operating efficiently and drained the air out of them
Turned off the radiators in unused rooms
Turned down the radiators at night downstairs
Put extra blankets on the beds
Kept lights off unless needed
Turned off plugs that were not in use (easy to do if you have multiple plugs and a power board with individual switches)
Result: By doing this we reduced our next bill by nearly £300!
Gardening

If you have a garden and you have little ones, now is a great time to get the wellington boots on and the spades out. A few weeks ago, I pulled up a lot of old dead plants and weeds from the vegetable patch and turned the soil. The children LOVED doing this! Things got incredibly messy and quickly turned into a study of worms, of which we found an enormous amount.
The next day we (I) dug a few trenches and we threw in some potatoes which I had been secretly keeping in a cupboard in preparation for planting. The children planted them and created more mess.
We're starting to see a little growth in the garden now. Even the herbs in the covered raised flower bed are starting to grow.  There is nothing better than some home grown vegetables and herbs for your dinner! It also helps the children learn about plants and cooking (which must be a good thing) and they love getting dirty and planting seeds, then seeing them grow. But it also saves us money!
Mealtimes
One thing I have noticed is my son eats about three times the amount that my daughter does. I've had to increase my dishes enormously to cope with his hollow legs.
I now cook in huge quantities to: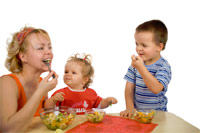 A) Have enough food
B) Have leftovers
C) Save money (economies of scale)
My must-have dishes are Cottage pie and Fish pie. You can make these in bulk and divide them up into portions and freeze them.
I personally buy my meat and mince it myself.  I buy fresh from a local farm - this also reduces the cost of the dish as I get more meat for less money than I would get at the supermarket. Check your local area for farms that have shops - you might live near a farm shop and not even be aware of it.
By doing this, I can feed my family dinner, have leftovers for us to have lunch the next day and have enough to freeze extra for those days where I really can't be bothered to cook!

What about you?
What do you do round the house to help keep costs down?