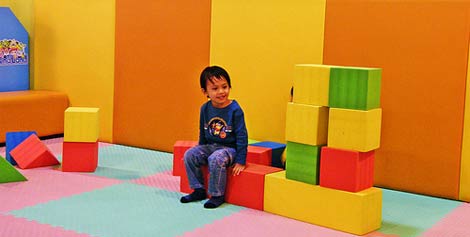 Let me tell you a story. My youngest child was due on 31 August, and the first thing that people said to me when I told them this was invariably to do with schools and nurseries. Some told me to be sure I was late so that she wouldn't be the youngest in her school year. Others encouraged me to make sure she was early, or at least on time, as this way I would save a year's childcare costs. At first I thought this was quite a mercenary way to look at it, but if you consider that full-time private childcare costs about £30 a day, that one day back in 2007 could save me almost £8k...
Joking aside, the cost of childcare is huge, and if you have more than one child under 5, the cost may very well prevent either you or your partner being able to work. However, there is Government help available, both in terms of cash and nursery provision, as well as some tax breaks that can help ease the pain of the cost of childcare, at least a little bit!
Free nursery provision for 3 and 4 year olds
For some years now, the Government has funded 'free child places' for 3 and 4 year olds at nurseries. Eligible children can get 15 hours free nursery a week for 38 weeks of the year (term time less one week for teacher training days). Any child who is 3 or 4 (or even 5 if you choose not to send your child to school until the term after their 5th birthday, although most children go at age 4) is eligible, there is no means testing or qualifying criteria.
However, the purpose of this nursery provision is to ensure children get the opportunity to mix with other children and experience early years education, rather than to help you out with childcare. Although your child gets 15 hours in total, this is five three hour sessions a week (up from 2.5 hours before 2010/11), and unless you only do an hour's work between 10 and 11am, it is unlikey this is going to cover it.
Some state or charity run nurseries may offer additional childcare for a fee around the free sessions, and if you are working, this is probably the most cost effective way to get the childcare cover you need. Private nurseries may do something similar, but personal experience shows that they charge their normal rates and then make a deduction for the State funding they receive. Which is often far less than the equivalent fees.
Help with paying for childcare
So, assuming you do have to pay for extra childcare, what help is available? Well, if you qualify for tax credits, the childcare element can help with up to 70 per cent of your childcare costs, assuming you pay a maximum of £122.50 a week for one child and £210 a week for two children to an Ofsted registered provider. The amount you get will depend on the level of your income.
If you are working, your employer may offer you childcare vouchers as part of your salary. In simple terms you swap some of your cash salary for vouchers, up to £55 a week ( or £243 a month), which are therefore not taxable or subject to national insurance contributions. If you are currently in a childcare voucher scheme, or if you are not a higher rate (40%) or additional rate (50%) taxpayer you will not be affected by the changes from 6 April 2011. From this date, higher and additional rate taxpayers will be restricted to £28 or £22 a week's worth of vouchers respectively, to make sure that everyone gets the same amount of benefit from the tax-free vouchers.
However, one very important thing to bear in mind is that receiving childcare vouchers can affect your tax credit entitlement. In simple terms, the amount of childcare you pay for using childcare vouchers is excluded from eligible childcare costs in calculating your tax credit amount. This means that, depending on your level of income, amount of childcare costs and number of children, childcare vouchers may actually leave you worse off.
Fortunately, HMRC have created a handy calculator which enables you to work out whether or not childcare vouchers would be beneficial for you and your family before you sign up for them- as often you need to sign up to the scheme for a year or more, and to make sure you have the most cash in your pocket at the end of the day.
And, without any coercion, she was born on 25th August.