Having a baby is so rewarding in so many ways, but unfortunately few of them financially. When you first find out you are pregnant, or look to try for a baby, one of the major concerns is always going to be how you will manage while you are on maternity leave.
However, the Statutory Maternity Pay (SMP) and Statutory Paternity Pay (SPP) regulations have improved over the last few years, and you may not know exactly what you are entitled to get in terms of both pay and leave. But never fear, PlayPennies is here to guide you through the maternity and paternity pay nightmare and make sure your family has the very best (financial) start it can.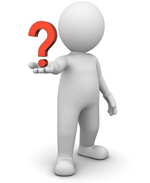 Step 1: Ask your employer
Many people make the mistake of assuming that the State offering is all they are going to get, which is not necessarily so. Particularly if you work for a large company, finding out about their own maternity and paternity pay benefits and packages could give you a nice surprise. Remember, your employer has to offer you statutory benefits as a minimum, but they may choose to offer more generous packages, particularly if they like to invest in their staff. Details of how much you might get are often included in a Staff Handbook, but if in doubt speak to your boss or your Human resources (personnel) department for clarification.
A word of warning though - many employers who do offer maternity benefits or paternity pay over and above the statutory minimum may require you to return to work for a certain length of time or risk having to pay back the extra cash. Whether or not you choose to return to work, or to return on a flexible or part-time basis is naturally a decision for you and your family, but if you might have to repay money, it is always better to know this in advance!
Step 2: Are you eligible for Statutory Maternity Pay? Are you eligible for Maternity Leave?
Most people assume these are the same thing, but they are not. To qualify for Statutory Maternity Leave the only requirement is that you must be an employee. If you are an employee and you give your employer the correct notice, you can take Statutory Maternity Leave no matter:
how long you have been with your employer
how many hours you work
how much you are paid
However, although you have the right to leave (and to return to a job afterwards) there are different conditions for being paid while you are not working. To qualify for SMP you must have been:
employed by the same employer continuously for at least 26 weeks into the 15th week before the week your baby is due (which basically works out that you need to have been employed by the same person since you became pregnant)
earning on average an amount which at least equals the lower earnings limit of £102/week
If you meet these criteria you now get:
90% of full pay for 6 weeks
33 weeks at the lower of either the standard rate of £128.73, or 90 per cent of your average gross weekly earnings
Two important things to note- firstly you do HAVE to take some leave, there is a compulsory 2 weeks leave for everyone or 4 weeks leave for someone who works in a factory. And there are people who have to be forced to take it.
Also, although you can now get paid for up to nine months (39 weeks) maternity leave, the leave period is still split into ordinary maternity leave (OML) and additional maternity leave (AML). Both periods run for 26 weeks, but the main difference is that, after 26 weeks, your employer does not have to give you your old job back, he/she is only required to offer you a job, but with the same terms and conditions as before.
Step 3: What if I am not employed? Can I get Statutory Maternity Pay?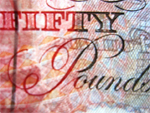 Er, no. Statutory Maternity Pay applies only to employees. However, if you are self-employed, or were recently employed, or you haven't been with your current employer long enough to qualify for SMP, you may be able to get Maternity Allowance. Similar to the last 33 weeks of SMP, it pays a standard weekly rate of £128.73 or 90 per cent of your average gross weekly earnings (before tax) whichever is the smaller, for a maximum period of 39 weeks.
In order to be eligible for Maternity Allowance you must have
been employed and/or self-employed for at least 26 weeks in your 'test period' (66 weeks up to and including the week before the week your baby is due) - part weeks count as full weeks
earned £30 a week averaged over any 13 weeks in your test period
Step 4: What about him indoors? Can my baby's father get Paternity Leave or Paternity Pay?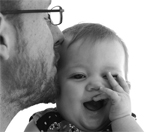 Yes. If your partner is employed, he could get Ordinary Statutory Paternity Pay, for up to 2 weeks, provided all of the following apply:
he must be the biological father or adopter of the child or be the mother's (or adopter's) husband, partner or civil partner or have or expect to have responsibility for the child's upbringing
he must have continued to work for the same employer without a break for at least 26 weeks by the 15th week before the baby is due, or employed up to and including the week your wife, partner or civil partner was matched with a child (for adoptions)
he must continue to work for that employer without a break up to the date the child is born or placed for adoption
he must be earning an average of at least £102 a week (before tax)
Ordinary Statutory Paternity Pay is paid for one or two consecutive weeks at £128.73 or 90 per cent of your average weekly earnings if this is less. The Statutory Paternity Pay may begin at any time on or following the child's birth, but must be completed within eight weeks of the actual date of birth (or eight weeks after the expected date of birth if the baby is born early).
Step 5: But hold on, weren't there some changes to Paternity Pay earlier this year? Can we share my maternity leave?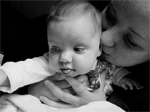 Yes. There is now a new scheme called Additional Paternity Leave, which only applies to babies born on or after 3 April 2011. Additional Paternity Leave is for a maximum of 26 weeks but can only be taken between 20 weeks and one year after the child is born or placed for adoption. Entitlement to  Additional Statutory Paternity Pay arises during your partner's Statutory Maternity Pay, Maternity Allowance or Adoption Pay period and is at the rate of £128.73 a week or 90 per cent of your average weekly earnings, if that is less.
Additional Statutory Paternity Pay is paid if you either:
take Additional Paternity Leave
are not working for the purposes of caring for your child, during your partner's Statutory Maternity Pay, Maternity Allowance or Statutory Adoption Pay period
To qualify for Additional Paternity Leave you must be an employee and the mother (or adopter) must have started working again and any relevant payment must have stopped, with at least two weeks of the 39 week payment period remaining. You must also intend to care for the child during your Additional Statutory Paternity Pay period (i.e. you can't claim for childcare costs on your Tax Credit form as well!)
Step 6: Will my maternity pay or Statutory Maternity Pay or my partner's paternity pay or SPP affect our benefits or tax credits?
Statutory Maternity Pay and SPP are treated as employment income so they are unlikely to affect your benefit in payment as they cannot exceed your regular wage. Once you have your baby, you may be able to claim (more) tax credits and if you are receiving Statutory Maternity Pay, you may still claim Income Support to top up your income, if appropriate.
Tax credits and Disability Living Allowance are not affected by Maternity Allowance, but it may affect any of the following benefits which may be reduced or stopped:
Employment and Support Allowance
Carer's Allowance
Bereavement Benefits
Income Support
Jobseeker's Allowance will stop
If you are not entitled to Maternity Allowance, or when it stops, you may be able to claim for Employment and Support Allowance instead.
So there you have it, a full run down of the pay you may get while having a baby. Next week we'll look at the tax credits and benefits having small people can bring you- and whether it's enough to keep you in nappies!
(Image credits, Keo101,Inferis, wwarby, SMJJP, money, lucian, Igor.)