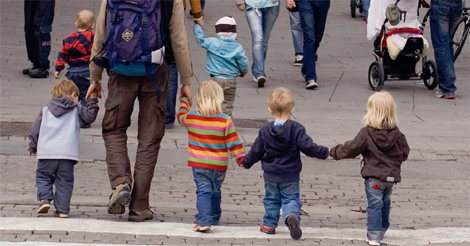 This is a guest post written by Emily, a mum of three children. She writes a blog called babyrambles in which she blogs about the day to day challenges, tears and joy of parenthood and other things which happen along the way.
Quite often people say they'd like another child but 'can't afford one'. And you read these awful statistics which suggests each child costs £250,000 or something similar. If children cost that much can any of us afford them?
I've got three children and never really considered whether I could afford them or not. I suppose childcare is the obvious cost. If you need to put each child in nursery then, yes, it's a lot of money. But there are ways you save money with subsequent children too.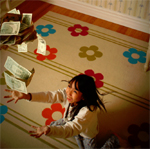 We all know the first child costs a lot of money. If you're not lucky enough to have stuff lent to you then you need to buy a cot, car seat, pushchair, highchair and travel cot, just to name a few things. Then there are the clothes, toys, nappies, food… the list goes on and on. You don't really want to add the cost up do you?
But you don't spend anything like this amount on a second child because you can re-use everything. I think it's nice to get more use out of the moses basket which your first was only in for eight weeks. And many clothes can be handed down too.
Poor third child really does end up with hand me downs. And then you start priding yourself that you've really got your money's worth out of everything, no matter how battered and dated it's looking.
I think you save money with larger families because you go out less. Sometimes a day trip or mini break seems like too much hassle when you've got three or four children to get ready. I find I do fewer paid activities with my children such as music, singing and toddler groups. It's because their different ages means at least one will be too old or too young for it. I don't think my children are missing out, they play together at home instead.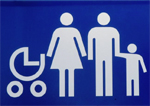 Having more children definitely makes you cost-aware. I make packed lunches instead of buying food when out and about. I think more about what I can buy secondhand and we force ourselves to trim our spending. That can't be a bad thing can it?
Some people say they need a bigger house for more children. Two of my children share a room and that's something I did when growing up too. A friend of mine has all three of hers in the same bedroom.
And back to childcare: the cost is huge and something we can't afford for three children under school age. So I work from home and combine work with looking after the children myself. This hasn't been easy and straightforward to do: it's taken a while to establish itself and I have hardly any time I can call my own. But it's a low-cost solution for us, juggling children and work is never easy.
If you think imaginatively I don't think it's too hard to afford another child. It just means you may need to re-think how you work and accept you don't have luxury holidays and nice clothes. Like anything in life, you decide what's a priority for you. And I have to say some days a luxury holiday does seem very appealing.
Photo credits: [fiskfisk, NickNguyen, dulk, pierre]