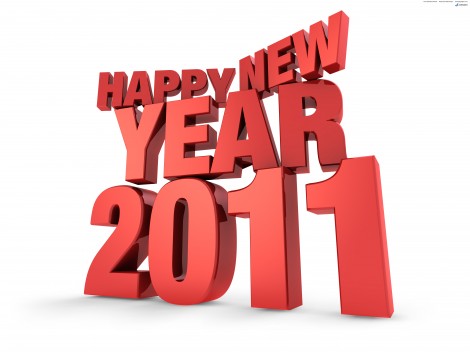 In a couple of days it'll be 2011. What are you going to do to make every penny count? Here's my top five money saving resolutions. found by looking on the internet, talking to other parents and reading up on the professionals.
These are not the sorts of tips you're going to get from those whose business it is to help you save money and deal with your finances. I'm not about to tell you to shop around for the cheapest credit card deals because I know nothing about interest rates or what an APR is. Or tell you to shop around for insurance don't just renew - that's just commonsense.
Nor am I going to tell you to compare utilities and look for a cheaper option. For three reasons - first you know this already because every single money saving site out there will have told you; second there are professional sites that do comparisons for a living and I don't; and third because I think that's a bit of rubbish advice. I took it a few years ago, swapped to a cheaper rate and ended up in customer service hell with everything going wrong that was possible to go wrong, endless cock-ups with bills, and a sure certainty that in fact in the end I paid more than I should have.
Now I am older, and wiser, and know to look just as closely at customer service as I do at the bottom line.
And, I'm not going to put making a budget down on here either. You're either going to make a budget (and hopefully stick to it) or you're not. As a grown up you know this is something you should do, you don't need me to tell you.
1. Read Bank Statements
Really read them. Go through at least a months worth (thought it is better to go through statements over a quarter but if you can't bear the thought of that at least do a month's worth). Look at all the little items and make sure you know what they are.
Lynette had a bit of a shock "someone was taking thirty or forty pounds out of my account each week, buying petrol at a station miles from where I live. Somewhere I never go! But I didn't notice this at first as it wasn't clear where the station was. They managed to spend almost £500 of my money before I finally got around to checking my bank statements properly I'd just been glancing over them. I mean, you think that when someone nicks your card details they'll try to clear it out not use it for little bits."
2. Check Direct Debits
This is one I have to hold my hands up to. I am very much ashamed to admit that for 18 months I was paying two lots of buildings insurance. Frankly I felt a bit sick when I found out, and really quite stupid. It worked out OK though. After calling the insurance companies, I just needed to provide some information and then the excess was re-paid into my account. Apparently the insurance companies have an agreement that in these sorts of cases they cover half each.
3. Buy A Thermos Flask

I didn't say these would be resolutions that will make you huge savings! But the little expenditures really do add up. Having ended up spending a small fortune in hot chocolates and tea just to stay warm this Autumn and Winter when at the park, I'm hugely in favour of this one. On the advice of my friend Nicky, I bought a rather nifty silver thermos flask from Sainsburys. I'm sure that you can get these things cheaper elsewhere (see top tip number 4!) but I didn't shop around. It isn't huge so is easy to carry about. Much easier than one of the big thermos flasks I remember from picnics when I was a kid. In this same category, if you're a parent who works outside the home, make your own lunch. Or if you really can't give up your precious spare time for this, then at least throw together a marmite sandwich. It takes minutes and then if you struck with the munchies (or more likely the sudden realisation that while getting everyone else sorted out in the morning you missed breakfast) you'll eat that instead of paying £2.50 for a slice of marmite on toast on the way to work.
4. Shop Around
I'm just as guilty as the next person for not doing this. At least not all the time. When it comes to spending a large-ish amount of money I'll always shop around but not when it comes to the little stuff. It just feels like I'm wasting my own precious time. But you know, it is worth it. Dad of five Paul does his shopping around online. "Supermarket websites will let you fill up shopping baskets and save what you've entered so you don't need to do it all at once. I use My Supermarket.com to compare prices and do a couple of shops at different supermarkets."
I haven't done this yet but I fully intend to do so in 2011, and that's pyramid shop. This is like those food pyramid's you might have been taught at school where the big base (the carbohydrates) are the cheapest places, like your local market, Poundsavers, Lidl, and clearance supermarkets, moving up to the more expensive shops. Again it takes time and is probably about the most boring thing in the universe, but I've found it isn't so time consuming if I have a shopping list to hand, and cross stuff off that as I go. And I just keep thinking about the money I'm saving...
5. Charity Stores, Second Hand Shops And Freecycle
You know what? I'm sick of Ikea, Argos and any other type of flat packed furniture. You pay £40 for something, that's a bargain for a brand new item but what do you get? And the things never go together properly anyway so something always ends up wobbly. I'd rather get a battered, used dining chair in mahogany for £20 than pay the same for something in beech veneer and pine brand new. I'd rather get a worn but solid dresser from Freecycle, and paint it, than pay out cash for a wobbly backed set of drawers. Is it just me? Or are other people finding they'd rather have furniture that was made properly and in once piece to start with, even when it is second hand?
What resolutions are you making - and what have you done in the past that worked/didn't work?