If you are expecting a baby, or have a child who was born on or after 1st September 2002, then you probably know all about the Child Trust Fund scheme.
However, a surprising number of parents have yet to take advantage of it, so this is a quick guide to making the most of a child trust fund, which is the first step towards helping your tot have a happy financial future.
What is a Child Trust Fund?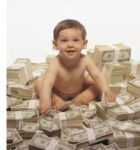 Run by the Government, The Child Trust Fund (CTF) is a long-term savings and investment account for children. Children born on or after 1 September 2002 will receive a £250 voucher to start their account.
The account belongs to the child and  the money can't be touched by anyone until the child turns 18, so that children have some money behind them to start their adult life. The scheme was set up to ensure your child has savings at the age of 18, and to help children understand personal finance, and teach them about the benefits of saving.
Parents can pay up to £1,200 into their child's Trust Fund account each year.
(For the Child Trust Fund, each year starts from the date of the child's birthday and runs until the day before their next one.)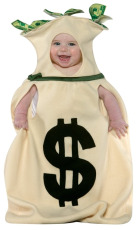 So if you have relatives who are stuck for birthday or Christmas gift ideas, why not suggest a contribution to the Child Trust Fund account? All contributions, no matter how big or small, will help the account grow into a useful sum.
Age 7 Payments
In addition, when the child reaches the age of 7 they will receive a further payment from the Government of £250 to be invested in the Trust Fund.
The Age 7 payments are exactly the same as the government contribution used to open your child's CTF account.  They will be paid directly into the account, they are tax-free and will not affect family benefit or tax credits.
And if you were receiving the maximum amount of child tax credits, (or its equivalent, if you claimed Income Support or income-based Jobseeker's Allowance) when your child had their 7th birthday, your child will get an additional £250.
Choosing The Right Account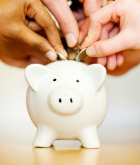 Various banks, building societies and even other organisations like the  National Childbirth Fund run Child Trust Fund accounts into which you can pay your child's money. It is up to you to choose which account will best suit your child's needs.
There are also 3 different 'types' of Child Trust Fund account. The one you choose depends on how you feel about taking a risk in order to give the money a better chance to grow.
Click on the following links to find out more about each type of account:
If the child has a stakeholder account, it can be topped up by cheque, standing order, direct debit or direct credit. For non-stakeholder accounts it's up to the individual provider how they choose to accept payments, so check direct with the providers.
Exclusive PlayPennies Advice...
Cordelia Brand is a Partner at Howard Kennedy, a London-based law firm. Play Pennies asked her advice on Child Trust Funds. She had this to say:
"There is a great deal of publicity concerning the government initiative to set up trusts for new born children so as to provide them with a lump sum when they are 18 years old. However trusts for children have existed for many years and the savvy parent and grandparent has long been aware of their benefits.
But why set up a trust and how do I go about it? These are my top tips;
1. Decide what the Child Trust Fund is to be for. Should it provide a lump sum for the child at a certain age? Is 18 too young? Will the child need access to the money while they are growing up, perhaps to held pay for school trips or fees?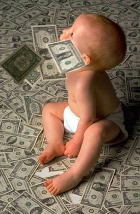 2. Make sure that the trust you choose is fit for the purpose, not all trusts are the same.
3. You will want your money to grow so always consider taking expert investment advice.
4. Avoid those tax traps. Some trusts receive more favourable tax treatment than others. Why loose your money to the Government? Take advice.
5. Consult a solicitor. The solicitor will be able to advise you on and help you set up the type of trust that is most suitable for your circumstances. They will also help you to avoid the tax traps and can point you towards an expert investment adviser."
For more advice, check out the Child Trust Fund website which is stuffed full of useful links and information. Among other things, you can use their account chooser to check out the different options availlable or estimate how much your child's account is likely to be worth when they reach 18, based on the CTF calculator. You can even download a replacement voucher if yours is lost, and get some free top tips for successful saving.