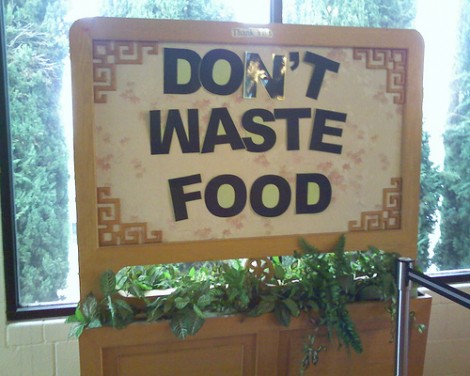 Food waste is the biggest battle in my house. I hate hate hate throwing out food. More so now than ever as food prices go through the roof. I asked around friends, family, and of course our PlayPennies community to ask:what simple, quick and easy tips do you have for cutting down on food waste?
1 Saucy

The first tip is an oldie but always worth keeping in mind. Thanks to mum Lesley for the reminder! Remember to keep sauce bottles upside down as they empty, so you can ensure you get that last little bit out of them.
2 Cereal Crumbs
Simon shakes out the bottom of his cereal packets into the muesli. "Shreddies, Weetabix and Cheerios all seem to have little crunchy bits at the bottom."
3 Stale Bread
Kirsty puts stale bread in her food processor and turns it into breadcrumbs. These can be frozen. She also puts crusts in the freezer until she's got enough to make bread and butter pudding. Terri keeps hers for taking the kids to feed the ducks, with the reminder that you need to "soak it first though, you shouldn't ever give birds dry bread".
4 Wine
I'm not a big wine drinker. I like a glass with good food, but I always end up with that bit left in the bottom of the bottle. So I freeze it in ice cube trays, to keep it for use in cooking.
5 Cream

Caitlin has a similar suggestion for cream. "Left over whipped cream, or when I see it on sale especially if it is reduced to clear because it is near its sell by date, gets frozen in our house. Then I've got it to hand for creamy mash potatoes, and my other half uses it for beef strogonoff."
This was a new one on me though - never thought of freezing cream. I wonder what other recipes it could be used in?
6 Fruit
"Smoothies!" was Frieda's one word reply when I asked about this at a dinner party. "Any soft fruit in our house goes straight in the blender. I drink them, and for the kids, I freeze them in ice lolly moulds." Universally it seems, bananas that are over ripe or too bruised to tempt the kids go into banana cakes and bread. There's a sugar free banana muffin recipe at Able & Cole well worth trying!
7 Candy
PlayPennies mum Christine found she had lots of candy canes left over after Christmas. This is a similar problem in my house too, and also with lollipops after Halloween. Not good for the teeth for the kids to be sucking on these every week.  Christine crushes the left over candy, and uses it as a topping for desserts and ice creams. Genius!
8 Nuts
This might be another problem you're faced with after the holidays, left over nuts. Actually, I frequently buy mixed nuts for snacks when we have people over and never end up using the whole bag. Tanya freezes her nuts. She says they're good to eat from frozen too. Not a bad idea!
9 Refresh stale food
This applies to cakes and bread. Try zapping cake quickly in the microwave. If bread isn't too hard, you can try sprinkling it with water and heating it gently in the oven.
10 Pasta Pudding
Looking at doing things with left over bread, I thought about the amount of left over pasta I always end up with. At the moment I put it in the fridge and turn it into salad the next day. But if you can make bread and butter pudding, what about pasta. A quick Google found the Zero Waste Blog, where Mrs Green has come up with an interesting chocolate pasta pudding!
11 Coffee

Are you like me, and always have coffee left over in a cafetierre or pot?
I found this tip mentioned on a few US sites - pop it in the fridge (or at this time of the year, the freezer so you can use it in the summer) and use it to make iced coffee. I've never tried iced coffee, but the recipe looks yummy.
12 Coffee Grinds
While we're on coffee, you know that coffee grinds make great fertiliser for plants, including your indoor ones, right? You don't even need to stick them in the composter. Handy if you don't compost!
13 Bread bags
No not the bags themselves, although they are useful for sandwiches. This post is about food. Do you buy loaves of seeded breads? Then shake out the bag and save the sesame or poppy seeds. Again, you can keep them in a container in the freezer and the next time a recipe calls for a handful of sesame seeds you won't be caught short. Well, that's the theory. My problem will be remembering what I've put in the freezer!
14 Bits of cakes, biscuits, pastries
Got lots of bits of different things left over - cakes, pastries, biscuits, bread? How about trying this French version of bread and butter pudding. It sounds a bit indulgent!
15 Compost

And when there's nothing else you can do with the food, then compost it. Be careful with cooked food as rats may be attracted to the bin. You can try your local council, if they haven't cut the programme that is. Many offer free compost bins to householders. Or you could get one of these wormeries.
And finally ...
As always use some common-sense. Remember the usual food hygiene rules don't go out the window when you're talking about scraps, leftovers, and crumbs.