School Year Calendar Review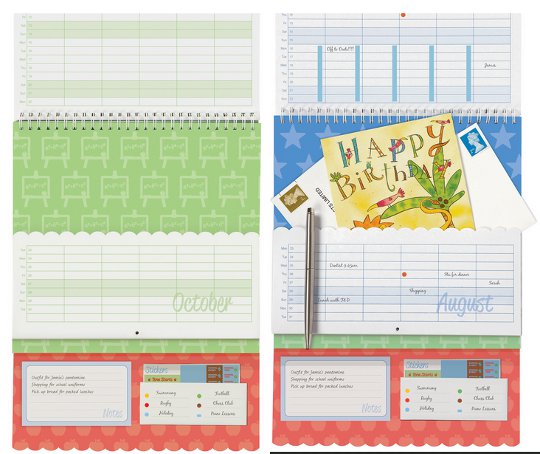 I'm a bit nerdy, sometimes, and I  love planning and organising – it's just following through I'm not always so great at.  That's one of the reasons I love the KTwo products and specifically the School Year calendar.
The calendar runs from August 2012 to August 2013 and has five columns on each page for up to five family members. This is great for keeping track of where everyone is or what special occasions are coming up for each child. There's also a sixth column for birthdays , which is fab, because I always forget to look at the birthday calendar, despite it hanging right by the front door!
The school year calendar has no pictures, but instead has funky shapes and background colours –but I suppose if you wanted to, you could paste postcard sized photos on each page… it could be a fun summer activity.
Each month's 'page' has a pouch for keeping bits of paper, receipts, vouchers, notes,  or invitations. This pretty much replaces the messy magnet stash on my fridge!
Below the calendar there's a sticky note pad, which is useful for shopping lists and reminders.
There's another really useful addition to this calendar: stickers. It comes with a selection of ready made stickers with things like 'term starts' and 'term ends' written on them.  Other stickers include 'School Photos', 'School Trip', 'School Event'  and 'No School' as well as dots in five colours for repeat events – like weekly rugby games in the example picture. Finally, there are stars and 'black out' strips for weeks of holidays or special events, or whatever you need it for, really!
Having not used it for a year yet, I can't say what specific problems there may be with it, but the only thing I can think of is that there may not be enough stickers for three school aged children, but I'm not sure about that.
Honestly, I love the School Year Calendar from KTwo Products. I think it's  a great idea!