Find Me A Gift Back To School Review

Pencils, pens, notebooks, pencil case. All necessary stuff for the return to school but not so exciting. How about throwing in some items to perk their days up a bit? Or maybe your own - there's a few here that I'd definitely like to get hold of.
Find Me A Gift specialises in finding unique products that make fabulous presents. They offered us the chance to have a look at a few items that they thought would be fun for the kids when they go back to school. So of course we said yes. PlayPennies mum of one Theresa is our tester this week. Here's what she thought of these fun products.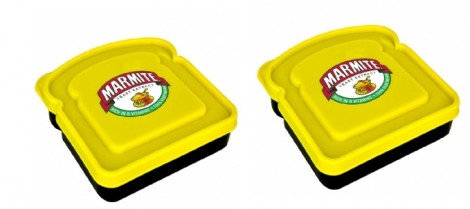 Marmite Sandwich Box
How cool is this? I mean seriously, have you seen anything as fabulous for a lunchbox? OK I accept that you'll either love the Marmite Sandwich Box (£4.99) or hate it, depending on whether you like marmite or not. But if you are one of those people that don't (and I have to admit I find that puzzling myself) then skip to the next product.
Theresa agreed with me, thankfully! She loved it. In particular she liked how it was just the right fit for the sandwich and could be used again and again. This has to be better for the environment. I know what she means. I use sandwich bags, and often these are recycled bread bags, which I wash and use again. But even so they don't last that long.
I'm not a fan of cling film either, and prefer to use foil sandwich wrap. However, my son would rather I put the sandwiches in a box, so they don't get squished. Making sure I've a box the right size isn't easy though. I think he'd love this too, as did Theresa's daughter Sabrina, for the same reason.
Teresa explains what the box is like to use. "The lid has a long lip on one side for easy removal. The plastic is easy to wipe clean and wash. It is a bit diffuclt to get on and off, Sabrina struggled a bit in our test run, but it is sturdy and solid, fits in all her lunchboxes bar the ridiculously poncy one I got her, and looks fab. Total winner. Don't forget to label it or it will get swiped. It's that cool."
Lipstick Novelty Pen
My son's school doesn't allow the children to bring in their own pens and pencils. They use the ones provided in the classroom. Which is fair enough. But luckily for Sabrina, she can bring her own pencil case to school. And she loved the Lipstick Novelty Pen (£2.49).
Theresa found the pen set "cheap and cheerful and so so funny. If your daughter wants these as her back to school stationery they will be the talk of the classroom."
The box has a cute little bow on top and there are three colour lipsticks. Theresa did find them very plasticky though. Not that it has stopped her using them herself. "I will pop one into my handbag as I love the effect but on the third pen, as I was testing them, the back popped off along with all the contents instead of the lid."
Not particularly robust then, but definitely cute. Also, Theresa found they wrote really well, so they work well as pens in addition to the novelty value.
Edit: All the pens collapsed within two days. Avoid.
Chocolator
The Chocolator (reduced to £3.49) is simply the funniest thing I have ever seen. And I desperately want one too! It is a calculator that looks like a bar of chocolate, and also, smells like chocolate too. Brilliant.
It also comes wrapped like chocolate, according to Theresa. "It looked so realistic I thought it was edible at first. I refuse to give this to my child. It is mine, MINE MINE. Love it. Works well, looks awesome and smells like chocolate. How can you go wrong with this?"
Novelty Wooden Pens
These Novelty Wooden Pens (reduced to £1.99) are shaped like girls, or cool chic chicks, pretty much as the name suggests. You can get one of four designs.
""My daughter took one look at this and disappeared with the pen." Theresa says. "Nobody is even allowed to sniff in the pen's direction."
The head is attached with a spring so it bobbles as you write. "The body is wood and painted in a funky design depending on the girl you get, we got Mandy, and the woollen hair is firmly glued in place." Theresa told us. She felt they were excellent value for money, and really nice to write with.
Camper Desk Tidy
Finally, Teresa looked at the Camper Desk Tidy (£4.99). I've always wanted a campervan myself, and this is probably the closest I'll ever get!
You create the Camper Van desk tidy yourself, by folding and glueing a provided template. Not a lot of fun for Theresa.  "Ours was as fiddly as anything,  and ended up looking like a camper van that had had an accident and was very fragile."
She didn't rate the final product very highly because "it eliminates talentless sods like me who can't see in 3D." Overall though, Teresa and her daughter had a lot of fun building. And the end product did hold their pens. Sort of.
And Finally ...
Some of the items reviewed here are on sale at the moment - you'll see that their prices is quoted as 'reduced'. It is possible that the price may go back up again soon.
As we saw, there are some fun ways to add a bit of interest to a pencil case. I'm not sure I could have the chocolator though. Theresa clearly has stronger will power than me. I'd be down the shop buying chocolate every day. Or trying to eat my calculator!