Printable Vouchers @ Burger King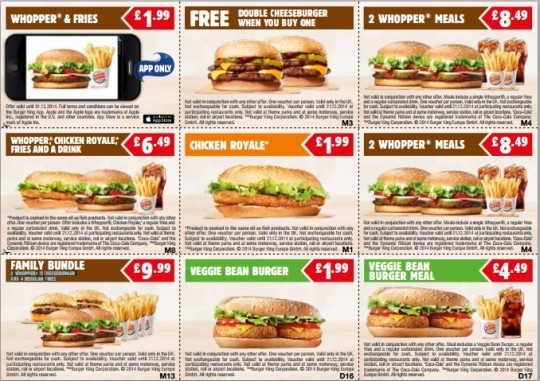 It's been a couple of months since we shared the discount vouchers from Burger King, and as the midweek 'do they want dinner again.... '  - urgh hits, it seemed like a good time to share this month's vouchers. What you do with them is up to you ;)
Once you've opened them, you just need to print them off and take it with you.
Among the vouchers are a free Double Cheeseburger when you buy one, a family combo for £9.99 which includes 2 Whoppers, 2 Cheeseburgers and four regular fries. There's also the Chicken Royale and Veggie burger options for £1.99 with the vouchers.
Print them off and stick them in your purse or wallet, and grab yourself a saving if you happen to be buying from Burger King!