Printable Discount Vouchers For Burger King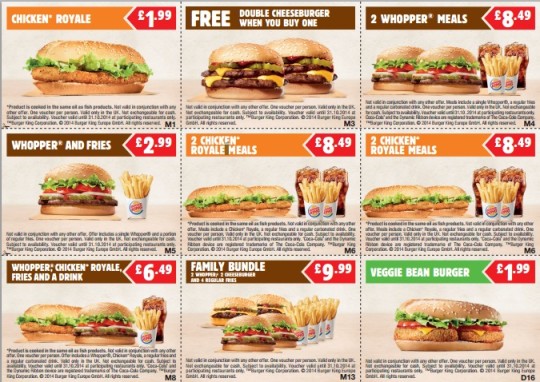 Did you know that you can print off vouchers for in store savings at Burger King? You can, and they are renewed every month. Click the link below for this month's vouchers:
We're not really much of a fast food family, but when my husband says he'll take care of dinner for the kids, it usually means a trip to Burger King. I guess he's the fun parent. At least with these vouchers, which I'll be forwarding to him, he can get a free double cheeseburger when he buys one. Or 2 Whoppers, 2 Cheeseburgers and four regular fries for £9.99.
On a really tight budget? The Chicken Royale, Chicken* Nuggets (5pc) & Onion Rings* (5pc) and Veggie Bean Burger are all £1.99 each.
You'll need to print off these vouchers and then take them in with you, and they can't be used with other offers.