Baby Bed Hogger Pillowcases @ Twisted Twee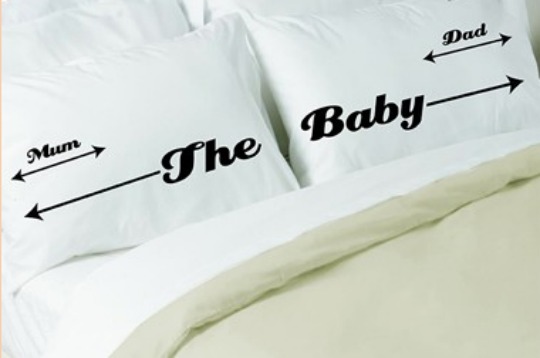 The picture says it all doesn't it really? Whether you have decided that co-sleeping is right for your family, or you are a reluctant co-sleeper there aren't many of us who haven't found ourselves in this situation. How is it that someone so little takes up so much room in the bed?
The Baby Bed Hogger Pillowcases* are made and sold by Twisted Twee, and this is what they say about them:
These Pillowcases divide the bed into the customary and inevitable sections allocated to each family member. It is a sorry but universal truth of parenthood that those in need of most sleep are allotted the least space!
You can get two different sets, depending on which side of the bed the parents get, and each set of two is £26 and made of strong Egyptian Cotton. Maybe not the cheapest, but very funny.