Tommee Tippee Explora Feeding Kit Including Bib £10 Delivered @ Amazon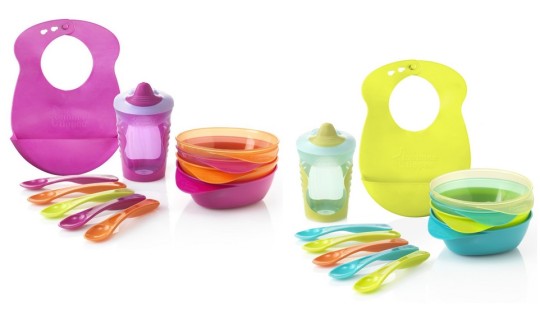 Amazon are selling the Tommee Tippee Explora Feeding Kit Including Bib for £10 delivered, in pink and blue (which is very green!). It was the same price at Mothercare, where it's sold out, and Argos has it for £13.99 delivered.
The Explora Feeding Kit for babies from 7 months up contains pretty much everything you need to introduce weaning and self-feeding.  In the kit you'll find:
The Easy Drink Beaker with a a soft spout which is easy to drink from, and easy-grip sides and base to make it easy for a baby to use.
The Easy Scoop Feeding Bowls which have a unique easy scoop triangular base, which is supposed to make scooping food easier.
The Feeding Spoons have been designed to help a baby learn to feed themselves, featuring chunky handles for an easy grip and a wide spoon base to scoop up and hold food in place.
And the Roll and Go Bib which is perfect for feeding in the home or on the go, with a handy crumb and mess catcher. This is a great bib, actually, as it fits easily in your handbag or nappy bag.
All of these are steriliser, microwave, and dishwasher safe, and BPA Free. Pretty good for £10 all in.