Tommee Tippee Digital Sensor Mat And Monitor Review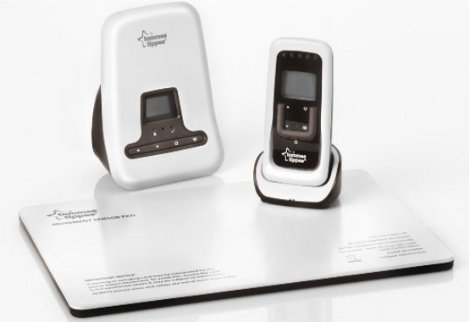 I like, and have concerns with, the Tommee Tippee Digital Sensor Mat and Monitor. As a product, I think it's great – but I wish it could be sold only to sensible parents! Let me explain:
The Tommee Tippee Digital Sensor Mat and Monitor has three parts – a parent unit, baby unit and sensor pad.
The Tommee Tippee sensor pad lies under the baby's mattress and monitors breathing. It sounds an alarm if no movement has been detected after 20 seconds. Personally I don't find it a necessarily addition to a nursery (probably because we co-sleep) and think it would make me rather neurotic.
I do think, however, that sickly, premature babies or smoking parents could benefit from this, as such babies are at higher risk.
The Tommee Tippee baby unit has a nice design and has a very useful built in night light with three brightness settings which can be controlled from it or from the parent unit. It has volume control buttons and an on/off switch for the optional sensor pad. It also gives a room temperature reading. Helpfully, there's a locator alarm for those inevitable I-can't-find-the-parent-unit moments.
The parent unit is sleek and has a clip for attaching to clothes. The Tommee Tippee parent unit can be battery operated – two rechargables are included in the box – has a docking station for electric charging, and a sound level monitor.
The two things that bother me about this monitor are also probably its biggest selling points: it has a 300 meter range, and an out of range indicator, and it has a two-way talk back function to "reassure baby from afar". While this is fantastic for older kids – "Johnny! Stop teasing your sister!" or "Kids, wash your hands and come down for dinner" - I have real concerns about it being used to 'shush-shush' babies who really need human comfort.

So, for sensible parents with older children, I love this monitor, but would urge parents to think twice about using the two-way talk back function as a replacement for physical comfort with infants.