SALE NOW ON! Children's Footwear Starting From £10 Delivered @ Clarks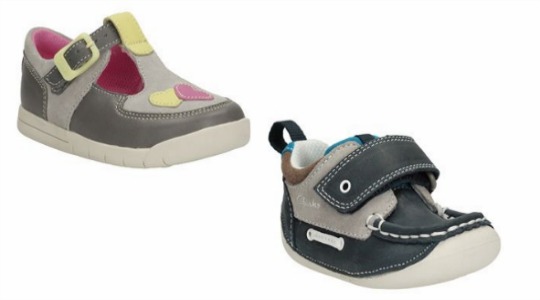 Clarks are a firm favourite with us parents. If you look on the High Street, where else caters for Children's feet like they do? Not many places, that's for sure. If you want a good quality, leather shoe that fits properly, then they are the shop to visit. The thing is they aren't the cheapest and whilst we want nice shoes for our little one's feet, it's not always viable due to the cost. However, Clarks have their SALE on at the moment, so have a look and see if you can get some decent shoes and save yourself money at the same time. Clarks offer FREE delivery and returns.
Starting from just £10, the Clarks Sale offers a variety of summer and autumn footwear. There aren't pages and pages to choose from but a decent amount all the same.
We think these shoes are now at a great price: Tiny Dexton Shoes* was £26 now £13, Free Club Jnr* was £30 now £14, Chad Skate Jnr* was £38 now £18, Little Bunny Shoes* was £26 now £13, Dance Shine* was £22 now £11 and Crazy Hug Fst* was £28 now £14.