IMPORTANT: Pram Sandals Recall @ Next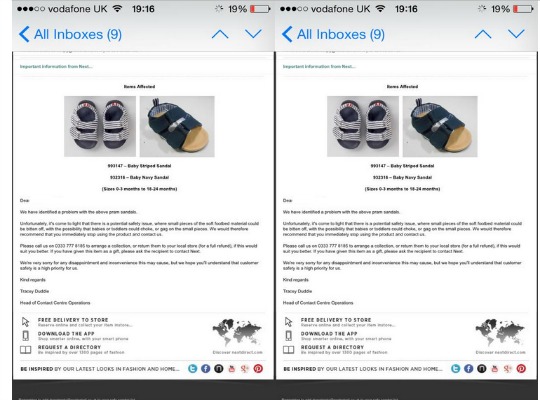 Look closely at the picture above. Have you got these, or know someone that has these Pram Sandals from Next*. They are on recall and for very good reason. The soft material on these pram sandals can be broken away easily and pose a serious choking hazard. If you have these stop using immediately and return to a Next* store.
You will receive a FULL refund and Next* will even collect them from you if that's more convenient. If that's what you want then you can arrange collection by calling 0333 777 8185.
There are two different styles that are being recalled: 993147 - Baby Striped Sandal and 932316 - Baby Navy Sandal (Sizes 0-3 months through to 18-24 months). Chances are that if you have ordered them from your Next account then you will receive the email pictured above. To be honest, I would double check anyway. However, if you have bought some Baby Pram Sandals in store then you ought to look on the little tag in the shoe OR compare them to the picture above.
Your local Next* will be aware of this problem and you shouldn't have a problem returning these at all. Do NOT continue to use them as they are not suitable for your little one.
Thanks to Hayley from HUKD FB