Crocs Kids Winter Puff Boots £14 @ Amazon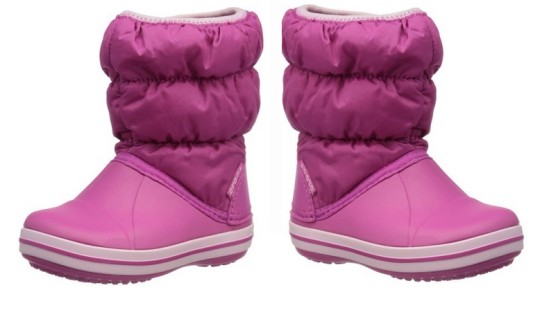 Amazon have a sale on pink - actually Fuchsia & Bubblegum, but pink will do - Crocs boots for kids. They are down to £14, while the other shoes are still up around £25 to over £30.
I had a pair of Crocs puff boots, albeit not in pink, last winter, and they were lovely. They were warm, comfortable and fab and I lived in them for months last year!
There are a number of different colours on Amazon, but it seems to be only the pink ones that are down to £14. They are available in toddler sizes 6 - 9, and then also in child sizes 10 -13.
(There's also a black pair for just over £16, if that's more suitable!)
These (probably) girl's boots are made with a quilted nylon upper, and a functional filling which makes them warm and comfy. There's a cinch cord around the shaft to prevent moisture and cold, and a twin stripe detailing above the sole. The base is the trademarked Croslite which is very lightweight and cushioned, while it has  rubber outsole pods for increased traction and durability.
Even if you don't like the Crocs clogs, these are pretty cool, and great for the winter.